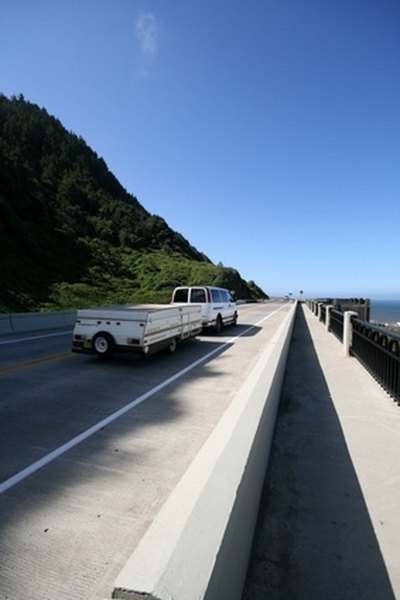 Camping is one of the most economic ways to go on vacation. Additionally, it is an excellent way to see many of the natural wonders that exist in the United States up close. A Jayco pop-up trailer is an inexpensive, lightweight option for those who are looking for an easy camping experience without using a tent or towing a large travel trailer.
Camper Weight and Capacity
One of the most important factors when choosing a pop-up camper is the weight of the trailer and its total weight capacity. You want to be sure that you do not exceed the towing capacity of your vehicle. Jayco pop-up trailers start at the dry weight of 1,835 lb. with a hitch weight of 140 lb. and a capacity of 865 lb. This makes the trailer's total possible weight 2,250 lb. The largest of the Jayco pop-up trailers weighs 2,780 lb. with a hitch weight of 375 lb. and a capacity of 1,070 lb. This trailer's possible total weight is 3,850 lb. There are two other Jayco pop-up trailers with weights that fall between these two.
Size of the Trailer
The smallest of the Jayco pop-up trailers is 13 feet 6 inches when it is closed up in its towing mode. When opened up at the campsite, this trailer measures 19 feet 6 inches long. The longest Jayco pop-up trailer is 20 feet 6 inches when towed and 24 feet 2 inches opened at the campsite. The height of the Jayco pop-up trailers varies from 51 inches to 69 inches.
Tank Capacities
The smallest of the Jayco pop-ups only has a 10-gallon freshwater tank on board and no gray- or black-water tank. The next size up has capacity for 23 gallons of fresh water, including the capacity of the hot water heater. The largest two have the same tanks that any travel trailer has. The freshwater tanks range from 17 gallons to 36.5 gallons and the gray-water tanks from 7.5 gallons to 11 gallons. The black-water tanks only hold five gallons.
Sleeping Capacity
Jayco pop-ups can sleep five or six in the smaller floor plans and six to eight with the larger floor plans.
References
Writer Bio
Kimberly Turtenwald began writing professionally in 2000. She has written content for various websites, including Lights 2 You, Online Consultation, Corpus Personal Injury and more. Turtenwald studied editing and publishing at Wisconsin Lutheran College.