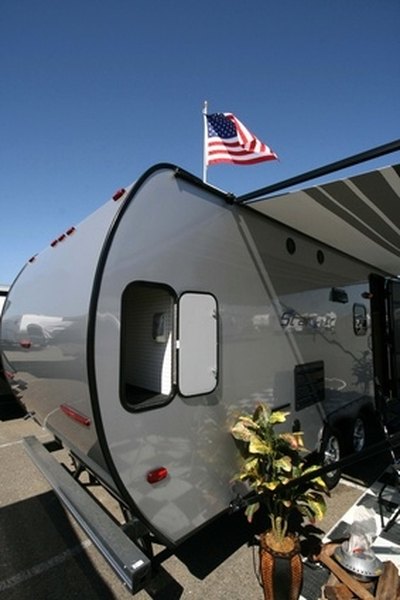 If you have a Chrysler Town & Country minivan, you already have a comfortable space to travel with the family. If you want to add sleeping quarters to the mix, it is possible to tow a camper behind your van. Before you start making plans for the next family camp-out, you'll need to spend some time making sure your van is equipped with the right gear.
Items you will need
Van owner's manual

Towing package
Step 1
Check the towing capacity of your van by reading your Town & Country owner's manual. Some models, such as the "Touring" model with trailer prep, can tow up to 3,600 pounds--more than enough to tow a small or medium camper. Other models tow less--up to 1,600 pounds less in some cases. Compare the towing capacity to the weight of your trailer to determine whether your van has the proper towing capability. If you have not yet bought a camper, consider purchasing the lightest one possible. Scamp campers, for example, weigh 1,200 pounds, which is well within the range of the "Touring" model. Keep in mind that you must leave some room for added weight when the camper is full.
Step 2
Install a tow package on your Town & Country. Chrysler provides a tow package as part of your van purchase, or you can retrofit your van with a tow hitch at a moving supply store like UHaul. Be sure to purchase the correct-sized ball hitch to match the hitch on your camper.
Step 3
Connect your camper hitch with the tow hitch on your van. Be sure to connect all safety lights and chains.
Step 4
Test drive the van and camper combo by driving around an empty parking lot. Check the brakes and stopping distance, as well as the turning radius, so you know what to expect when you get out on the road.
References
Writer Bio
Nicole Vulcan has been a journalist since 1997, covering parenting and fitness for The Oregonian, careers for CareerAddict, and travel, gardening and fitness for Black Hills Woman and other publications. Vulcan holds a Bachelor of Arts in English and journalism from the University of Minnesota. She's also a lifelong athlete and is pursuing certification as a personal trainer.