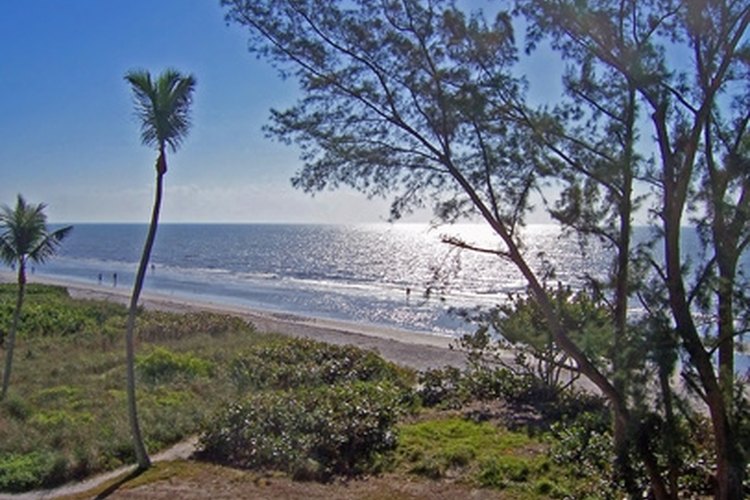 While Florida offers travelers many touristy vacation options -- Disney World, South Beach and Key West, to name a few -- it also has many offerings for visitors looking for a secluded beach vacation. The Florida panhandle, with its beautiful Gulf of Mexico beaches, is an excellent choice for vacationers seeking a serene beach escape.
Dog Island
Dog Island is in the eastern portion of the Florida panhandle, on the southern edge of the Appalachia National Forest, off the coastal town of Carrabelle. Accessible only by water taxi or island ferry, over half of Dog Island's 1,850 acres is undeveloped and in trust by the Nature Conservancy, ensuring its beaches remain pristine and unspoiled. The island's only hotel, the Pelican Inn, has eight 400-square-foot studio units which sit right on the island's beautiful white sand beaches, with beautiful views of the gulf from the shared 100-foot long deck. Guests can relax while bird-watching, enjoying the island's over 200 species of birds, as well as fishing in the sparkling gulf waters.
St. George Island
St. George Island is a long, slender island running east-west along the Florida panhandle, bordered on the north by the Apalachicola Bay and on the south by the Gulf of Mexico. At its tip is the pristine St. George Island State Park, which comprises about one-third of the island's 22-mile length. Visitors looking for a secluded beach getaway will enjoy leisurely browsing the island's small downtown area, with shops and restaurants. Bike and scooter rentals are readily available, as are motorboats, kayaks and boogie boards. Walkers will enjoy the stillness of the miles of undeveloped beach in the state park, and photograph opportunities, picnic areas and camping spots abound.
Seagrove Beach
Seagrove Beach is located toward the western end of the Florida panhandle, about 30 miles west of Panama City. The beach borders Deer Lake State Park, a coastal park with a gorgeous coastal dune lake. Kayakers and canoers will enjoy the lazy nearby spring-fed rivers. Seagrove Beach is the perfect place to enjoy a secluded outdoor beach vacation, teeming with wildlife and with miles of isolated beaches.
Grayton Beach
Grayton Beach sits just west of Seagrove, but has a very different feel. Grayton is an excellent choice for Florida panhandle vacationers desiring a quaint beach town with things to do but not a lot of crowds or company. The town's Hemingway-style wooden homes line streets with oyster shell paved alleyways, reminiscent of Florida beach towns of a bygone era. The Topsail Hill Preserve State Park boasts miles of pristine, secluded beaches, and Grayton Beach itself is explorable with a hiking trail that runs along the beach, circles picturesque dunes, winds through scrub oaks and magnolias and offers ample interaction with local wildlife. Swimmers and boaters will enjoy both shimmering Western Lake and the pleasant waters of the Gulf of Mexico.