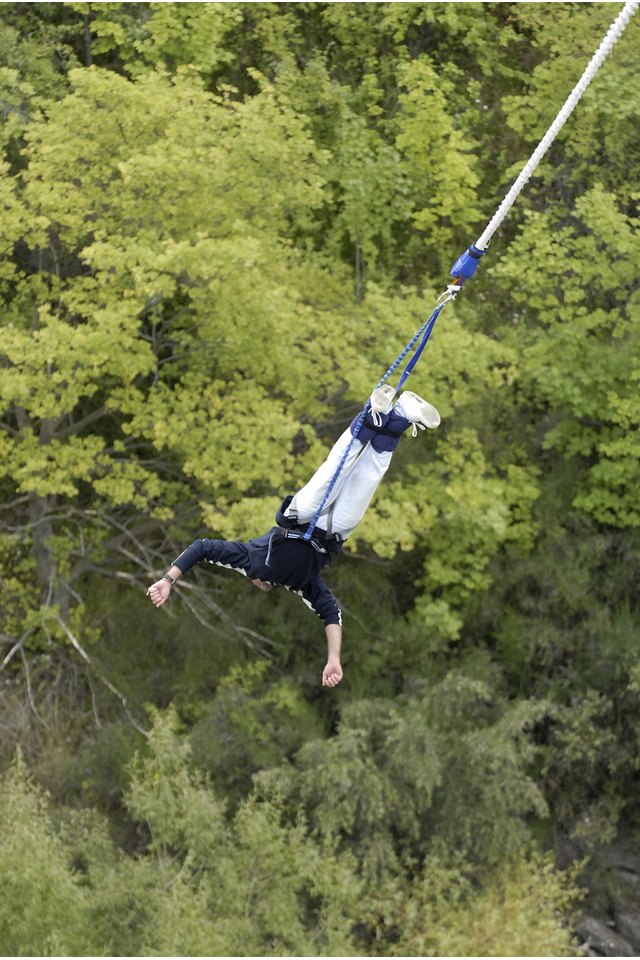 Virginia is for lovers, especially of the outdoors and extreme sports. From mile-high Mount Rogers, the highest peak in Virginia, to the eastern shore beaches, the Old Dominion State has something for everyone. If you are drawn to extreme sports that get your blood pumping and your adrenaline flowing, there are bungee-jumping experiences in Virginia to flip for.
Theme Parks
Kings Dominion in Doswell, Virginia, is a 400-acre entertainment park for families that encompasses traditional amusement park rides, a water park and high-adventure thrill rides. Xtreme SkyFlyer is a bungee jump experience that hoists you 153 feet in the air. Pull the ripcord to free fall at 60 miles-an-hour from 50 feet in the air. This extreme attraction lets you soar with the thrill of bungee jumping and skydiving combined.
Blue Ridge Mountain Attractions
In Virginia's Blue Ridge Mountains visit the Discovery Ridge Adventure Center at Wintergreen Resort. Rejuvenate your spirit with a ride on the bungee trampoline. Bounce to heights in excess of 25 feet on this trampoline and bungee combination attraction.
Municipal Events
XtremeFest of the Blue Ridge is an annual one-day event focusing on major recreation opportunities in the area of Waynesboro, Virginia. You can take part in traditional outdoor activities like hiking, biking, paddling and climbing. For the extreme outdoor enthusiast there are a range of activities including the extreme bungee jumper ride.
The Shenandoah Valley
Visit the Shenandoah Valley any time of year for exciting adventure activities including ropes courses, a hill-side slide system and even bungee jumping. Strap on a harness attached to giant rubber bands on the Euro-Bungee jump at Bryce Resort. Jump on the trampoline as the bands are tightened and you fly, drop and spin through the air on this extreme ride.
Bridge Jump West Virginia
If you are visiting Virginia and are interested in extreme jumping activities, visit the annual Bridge Jump Festival at the New River Gorge Bridge, just 50 miles acroos the border of West Virginia. "BASE stands for Building, Antenna, Span and Earth. BASE jumpers leap from any and all of these four-fixed objects with parachutes designed specifically for rapid deployment," according to festival organizers. Join hundreds of jumpers and 80,000 spectators annually visiting vendors, souvenir booths, food venues and gathering information on other extreme sports offerings like bungee jumping, which is not permitted at this event.
References
Resources
Writer Bio
Jennifer Dermody started writing in 1992. She has been published in "Running Wild Magazine," "The Green Book" environmental bid journal and local publications in the areas that she has lived all over the world. She is currently a licensed Florida real estate agent. Dermody earned her Bachelor of Arts degree in communications from Regis College in 1993.