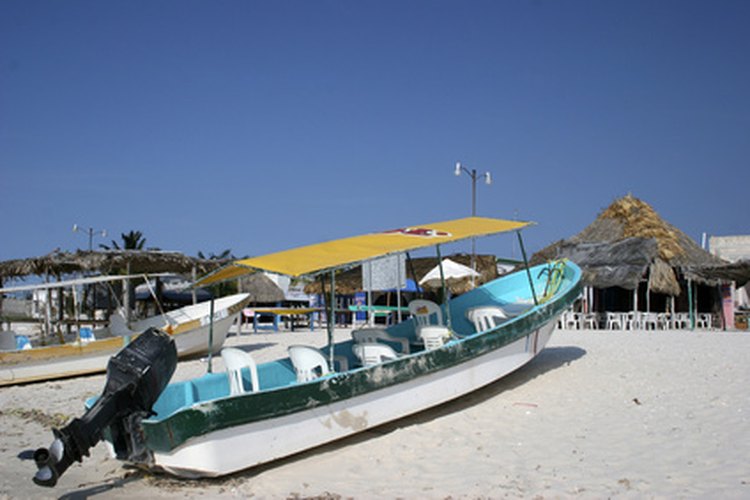 The border town of Algodones, Mexico, has become a favorite spot for RV travelers. With a number of facilities in the area, Algadones has many perks, including shops, restaurants and entertainment. The area becomes more popular in the winter months and spring months, when the temperatures hover between the mid-60s and 70s. While Algodones is a safe place during the day time, it is recommended that RV owners find a park on the American side of the border. Winterhaven, California, has a number of RV parks available, and all are close to the border and Algodones.
Laguna Dam RV Park
The Laguna Dam RV Park is one of many Winterhaven RV parks. Laguna Dam RV Park offers 62 full-hookup RV sites and 15 camp sites. There are no pull-through sites at Laguna Dam, but there is access for big rig trucks and vehicles. The park does not have cable television, Internet and phone hookups. There is a fishing and bait shop. Pets are allowed but must be leashed when outside.
Laguna Dam South RV Park 1975 Imperial Road Winterhaven, CA? (760) 572-0798
Rivers Edge RV Resort
Of the available RV parks in the Winterhaven area, none is bigger than Rivers Edge RV Resort. Rivers Edge RV Resort is open year-round and has 494 landscaped sites available with full hookups. There are also hookups for cable television, telephone and Internet. Other amenities include shower facilities, clubhouse, shuffleboard court and a spa. Rivers Edge has a rotating security patrol.
Rivers Edge RV Resort? 2299 W. Winterhaven Drive Winterhaven, CA?
(760) 572-5105?
Sleepy Hollow RV Park
Sleepy Hollow RV Park is in walking distance of Algodones. Open year-round, the park offers daily, weekly and monthly rates. There are 200 sites that are dry camp or have full electric, water and sewer hookups. Cable television is also available. Other amenities include access to a local swimming pool and community facilities, laundry facilities and a club house. Sleepy Hollow has pull-through sites available.
Sleepy Hollow RV Park 369 Andrade Road Winterhaven, CA 92283 (760) 572-5101