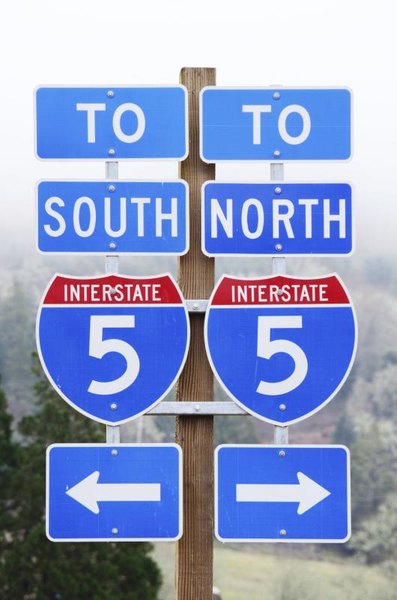 Interstate 5 spans more than 1,300 miles, running north and south through the states of California, Oregon and Washington. With nearly 800 miles of highway in California alone, I-5 winds its way through a diverse landscape from the Cascade Mountains to the windy beaches of Southern California. Travelers on I-5 can choose among a wide range of camping options along the way, from modern RV parks to primitive tent sites.
Northern California: Camping on the Klamath River
The Tree of Heaven Campground sits deep within Klamath National Forest, about 7 miles west of I-5 via Exit 786. Grassy and heavily shaded, the campground consists of 20 primitive sites for tents and small RVs. The U.S. Forest Service provides vault toilets and drinking water, but the campground does not include hookups of any kind. Campfire rings and picnic tables are located at each campsite. The Tree of Heaven Campground overlooks the banks of the Klamath River, with fishing access and a launch site for canoes and other non-motorized boats. The campground is open from May to October.
North-Central California: Camping at Black Butte Lake
From I-5 Exit 619, it takes less than 15 minutes to reach Black Butte Lake. The U.S. Army Corps of Engineers operates two campgrounds on the shore of this 4,400-acre reservoir, with accommodations for tents and RVs up to 35 feet. The larger Buckhorn Campground includes 65 year-round campsites, with an additional 35 campsites available from April to November at the nearby Orland Buttes Campground. Sites at both campgrounds include picnic tables, campfire rings and access to drinking water, hot showers and modern restrooms. Campers have access to horseback riding areas, 20 miles of hiking trails, boat launch facilities and productive fishing for bass and panfish.
South-Central California: Camping at San Luis Reservoir
San Luis Reservoir State Recreation Area is less than 10 miles west of I-5 Exit 403, and campers can choose among more than 150 campsites at four separate campgrounds around the lake. The largest and closest campground to San Luis Reservoir is the Basalt Campground, which includes 79 non-electric sites for tents and RVs up to 30 feet. Showers, restrooms and drinking water are available. Campers looking for more modern amenities can find water and electric hookups at the 53-site San Luis Creek Campground, while those with a taste for the rustic can select a primitive site at the Medeiros Campground or Los Banos Creek Campground. San Luis Reservoir State Recreation Area offers opportunities for fishing, boating, hiking, bicycling, swimming and picnicking. All four campgrounds are open year-round.
Southern California: Camping at Oak Flat
Less than 5 miles from I-5 via Exit 183, the Oak Flat Campground in Angeles National Forest is one of the more primitive camping options along Interstate 5. The Oak Flat Campground includes about 25 campsites with no hookups or modern facilities of any kind other than vault toilets. Availability of potable drinking water varies, so bring plenty with you to be on the safe side. Hiking is available on the rugged Oak Flat Trail, and nearby Pyramid Lake offers fishing access, a swimming beach, shoreline picnic areas and non-motorized boating. The Oak Flat Campground is open year-round on a strictly first-come, first-served basis.
References
Writer Bio
When Richard Corrigan isn't writing about the outdoors, he's probably outside experiencing them firsthand. Since starting out as a writer in 2009, he has written for USA Today, the National Parks Foundation and LIVESTRONG.com, among many others, and enjoys combining his love of writing with his passion for hiking, biking, camping and fishing.