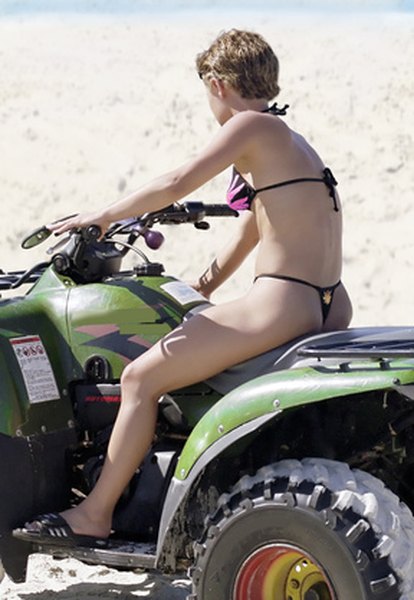 Orange Beach, Alabama, is a small city in southern Alabama near the Gulf of Mexico. This area is home to many recreational activities and a number of trails that can be used for hiking, biking or ATV riding. When visiting Orange Beach, riding ATVs can be a fun and exciting experience. Before you choose to rent or invest in an ATV for your trip, it is important to know the rules and regulations on ATV use in Orange Beach.
Step 1
Contact an ATV rental store in Orange Beach or the surrounding area. There are a variety of stores in the area that rent and sell outdoor equipment for land or water activities. You can also consider purchasing your own ATV if you intend to make this a serious hobby.
Step 2
Research trails and locations where it is legal and safe to ride the ATV. According to Alabama state laws, it is illegal to ride ATVs on sand dunes and beaches along the Gulf of Mexico. It is also illegal to ride the vehicles on public roads. Ask the rental shop for recommended locations where riding is legal and the shop will be able to provide maps and suggestions about where to ride the ATV.
Step 3
Enroll in an AVT riding safety course. While this is not required, it is a good idea to receive proper instruction before operating a motorized vehicle. These courses require that you bring your own ATV and supplies and pay a fee, generally around $150 for adults and $55 for those younger than 15. The ATV Safety Institute is a great place to start in learning more about your ATV and how to safely ride it.
References
Writer Bio
Nicki Callahan began her literary career in 1989. Her work has appeared in "The Charlotte Observer," "The Patriot Ledger," "The Wasatch County Courier," "Utah Homes & Garden Magazine" and "The Retired Officer Magazine." Callahan studied English literature and creative writing at the University of California, Los Angeles and the University of Utah.