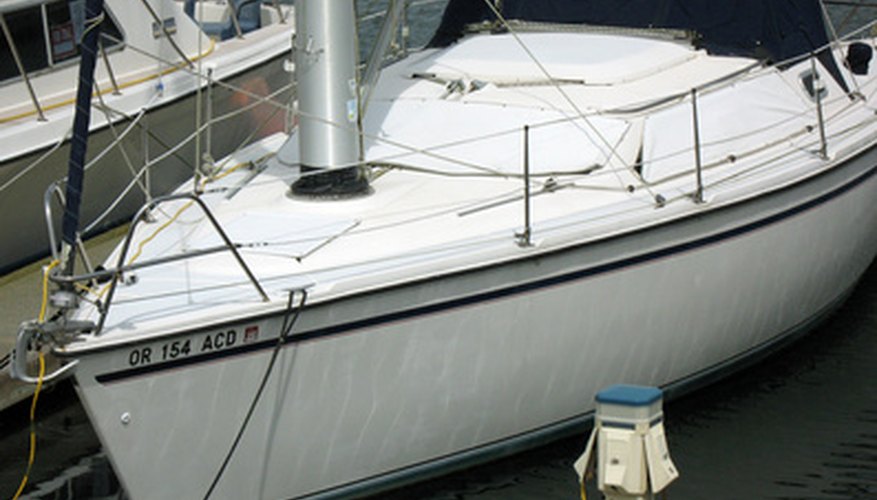 Dry rot may seem like a problem for wooden boats, but many boats, including those with fiberglass hulls, have wooden stringers and wall studs that can be affect by dry rot. Some of the factors involved in dry rot include the age of your boat, the type of materials used in construction, whether the boat is used and stored in a humid environment, how the boat is stored during the boating season, and how the boat is cared for while in winter storage. If your regular inspections turn up the signs of dry rot, immediate action is necessary.
Items you will need
Yellow chalk

Marine epoxy filler

Penetrating epoxy sealer

Paintbrush

Paint roller

Paint sprayer
Mark clearly with yellow chalk any area where you observe dry rot. These yellow marks will aid you in avoiding removing or over-treating areas surrounding the problem. Remove carpet, deck panels, hull panels or the covering of bulkheads to expose the areas of dry rot. Allow these areas to air dry.
Remove any loose bits of the rotted wood by hand. Fill any holes in the wood or any seams where dry rot appears between pieces of wood with marine epoxy filler. Allow the filler to cure for 48 hours.
Apply wood penetrating epoxy sealer to the rotted wood using a paintbrush, paint roller or paint sprayer (set for a coarse spray). Allow the sealer to cure for 24 hours. Check the wood after the sealer has cured and apply additional coats of sealer if needed.
Writer Bio
Will Charpentier is a writer who specializes in boating and maritime subjects. A retired ship captain, Charpentier holds a doctorate in applied ocean science and engineering. He is also a certified marine technician and the author of a popular text on writing local history.