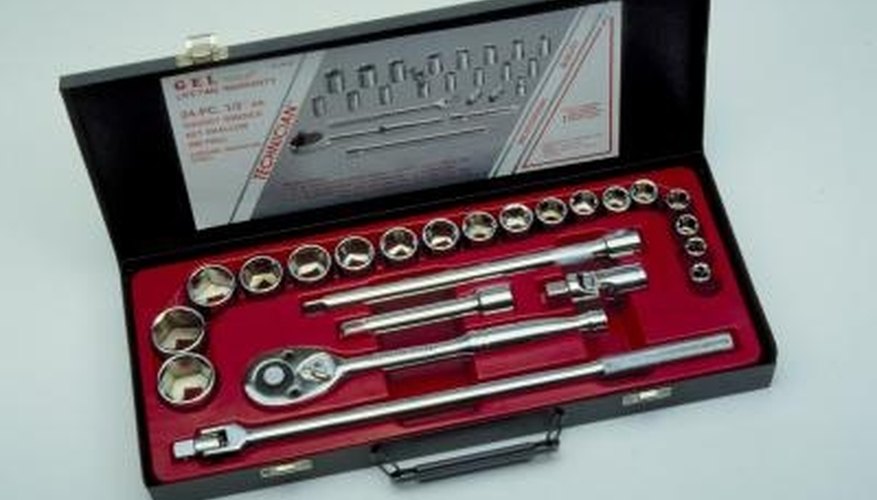 Are your boat's batteries not charging? Do the lights dim when you turn on the stereo? Is there a ominous-sounding rattle coming from somewhere down in the engine compartment? Any of these can be the sign of a failed or failing alternator. A simple alternator output test can reveal if your suspicion is correct. Luckily, swapping out an alternator on a Mercruiser motor is a simple task.
Items you will need
Combination wrench set

Socket wrench set

Digital camera
Belt Removal
Step 1
Photograph the routing of the serpentine belt around the various pulleys on the front of the engine using a digital camera. You'll need to refer to this photo to insure the belt is reinstalled correctly after the alternator is replaced.
Step 2
Locate the belt-tightening pulley on the front of the engine. It's identified by having a hexagonally-shaped end to the bolt which holds the pulley in place.
Step 3
Fit a small wrench on the hexagonally-shaped shaft, holding it static, while you loosen the larger nut on the shaft with a larger wrench.
Step 4
Turn the small wrench, once the nut is loose, to loosen the tension on the belt.
Step 5
Remove and Replace Alternator
Step 1
Remove the two sets of wires at the back of the alternator first, if you can reach them. Depending on the configuration of your deck and engine compartment, this may be difficult or impossible. If so, the alternator can be removed first, but someone will have to support the alternator while another person removes the wires after the alternator is rotated so the wires are accessible.
One of the sets of wires is held in place with a nut under a rubber boot. Slide back the boot, use a wrench to remove the nut. The other set of wires is "plugged" into the back of the alternator with a locking plug. Pinch the locking mechanism on the plug and pull out the connector.
Step 2
Remove the two bolts which hold the alternator to the mounting brackets using a combination wrench and a socket wrench to hold the bolt and loosen the nuts. The top mounting bolt is almost always accessible.
The lower mounting bolt on some installations can be difficult or impossible to access. If this is the case, the bolt which holds the lower mounting bracket to the engine block may be easier to reach and removing it will allow the alternator and bracket to be removed from the block, then the lower bracket removed from the alternator.
Step 3
Reverse the removal procedure to install the new alternator.
References
Writer Bio
Mike Schoonveld has been writing since 1989 with magazine credits including "Outdoor Life," "Fur-Fish-Game," "The Rotarian" and numerous regional publications. Schoonveld earned a Master Captain License from the Coast Guard. He holds a Bachelor of Science in wildlife science from Purdue University.