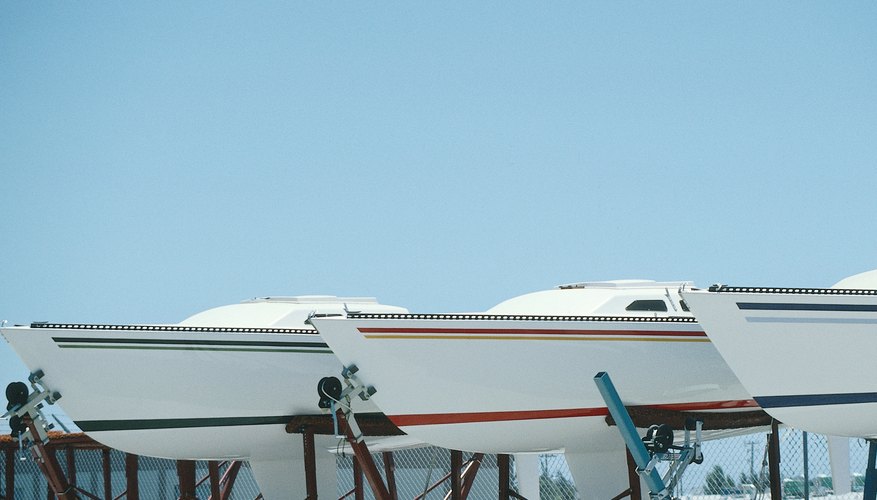 Once you've finished registering your new boat with the Texas Parks and Wildlife Department, you'll need to head to the Department of Motor Vehicles to register your new boat trailer. Boat trailer registration is mandatory in Texas and requires an application form and proof of ownership.
Manufactured Boat Trailer Registration
The Texas Department of Motor Vehicles and your County Tax Office handle Texas boat trailer registration. You'll also be required to title the trailer if it weighs more than 4,000 pounds. Trailers under that weight do not need to be titled. Different procedures apply depending on whether the trailer is manufactured or homemade.
To register manufactured boat trailers in Texas, fill out an application for registration (and title if applicable) and pay the applicable sales and use tax. The application (for registration and/or titling) is called Form 130-U and requires owner identification information as well as information about the trailer's make, model, weight and color. Take this in to the county tax collector/assessor's office.
Take in your Manufacturer's Certificate of Origin (MCO) as well. Think of this document as your trailer's birth certificate. The MCO lists your Texas boat trailer's unique identification information. Every trailer manufacturer is legally obligated to provide an MCO to the person buying a vehicle or to the dealer selling the vehicle.
You'll also have to pay a sales/use tax on the trailer. This is calculated at 6.25 percent of the sales price of the trailer. You won't need to provide proof of insurance on a boat trailer since there is no state requirement that boat trailers in Texas be insured. However, an annual boat trailer inspection (at a state certified inspection station) is required for vehicles over 4,500 pounds. Inspection information is passed electronically to the DMV.
Every year you'll need to renew the Texas trailer registration. You'll get a renewal notice in the mail. If your Texas boat trailer is heavy enough to be subject to the inspection laws, you'll have to do the annual inspection. You can then renew the registration by mail or, in some counties, online.
Homemade Boat Trailer Registration
If you built the boat trailer yourself or hired a shop to build it for you, you still have to register it. But first, get it inspected by an auto theft law enforcement officer. Ask at the Texas Department of Motor Vehicles for the location of the closest inspection center with an auto theft law enforcement officer. Take your trailer in for inspection and fill out an Application for Assigned or Reassigned Number (Form VTR-68-A). Once you are assigned a number, you must get it die-stamped on the trailer.
Take Form 130-U and Form VTR-68-A, as well as the notice of assigned number and a photo of the trailer to the tax assessor's office. You'll also need Form 305-A, which is a statement about the ownership of the trailer and a safety inspection report, if applicable.
References
Writer Bio
From Alaska to California, Switzerland to Brazil, France's Basque Country to Mexico's Pacific Coast, Teo Spengler has camped, hiked, surfed and fished, and written articles lighting the way for others to do the same. A published novelist and professional writer, Spengler earned a BA from U.C. Santa Cruz, a law degree from U.C. Berkeley's Boalt Hall, and an MA and MFA from San Francisco State. She currently divides her time between San Francisco and southwestern France. Her articles about the joys of being in the great outdoors have been published online by Arizona Central, USA Today Travel Tips, Working Mother, Hunker, Go Banking Rates, Gardening Know How, Atlanta Journal Constitution and eHow,