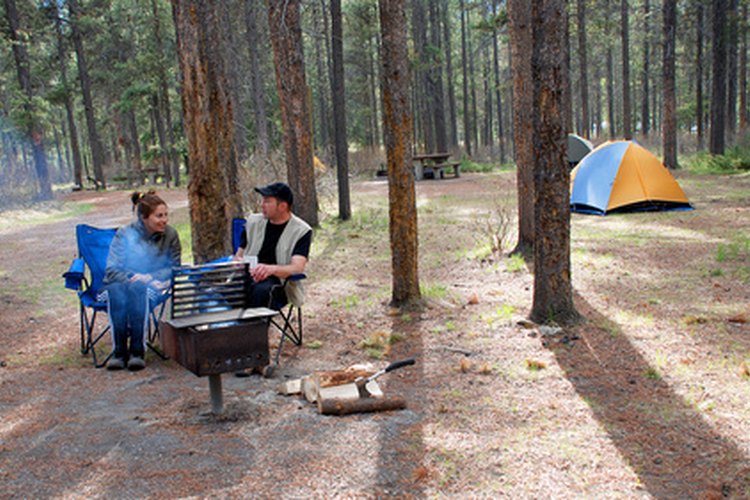 Every trip into the great outdoors can benefit from PVC camping tools ranging from car-top carriers and fishing pole holders to fire side chairs and collapsible drying racks. Fashioned from sturdy and durable PVC pipes and fittings, these camping items are simple to make and will last for many journeys to your favorite campsite.
Car-Top Carrier
Construct a simple car-top carrier by connecting sturdy PVC pipes together to form a rectangular shape that fits on top of your vehicle. Use three-way corner connectors to turn the carrier into a shallow rectangular box. This carrier can be attached with clasps to a roof rack system or strapped tightly to the roof through the windows of the car.
Collapsible Drying Racks
If you need to slog through a stream or get caught in the rain on your camping journey, being able to dry your clothes is important for health and comfort. Build a PVC pipe drying rack that can be set up and taken down again in seconds. Start with a long, I-shaped base for stability, and add multiple uprights from T-shaped connectors at the bottom. Top each pair of uprights with a cross bar attached with elbows at the corners. Glue the connectors to the longer poles, and you have a drying rack that you can take down quickly.
Fishing Pole Holders
A PVC pipe fishing pole holder allows you to grab another beverage without reeling in your line or losing your pole. Use a hacksaw to cut a piece of PVC pipe the correct diameter and length to hold your pole's handle. Cut another piece of pipe at a drastic angle, essentially making it into a spike. Put these two pieces together with a connector and glue. Your new fishing pole holder can be jammed into the riverbank easily.
Fireside Chair
You can make a simple chair frame from PVC pipe for your next camping trip. Build a large rectangle using PVC pipe pieces held together at the corners with elbow connectors. Halfway down each side of the rectangle, use a T-shaped connector and pipe to create chair arms. At the bottom of the rectangle, use a 3-way connector to attach the back of the chair to a smaller rectangle on each side. Construct a much shorter front for the chair in the same manner.
Cut a piece of sturdy cloth long enough to reach from the top of the chair frame to the front seat pipe with some slack. Fold over each end to form a pocket large enough to fit over the PVC pipes, and sew them securely. Slip these pockets over the PVC pipes at the front and back, and glue the pieces together for a comfortable camp chair.
References