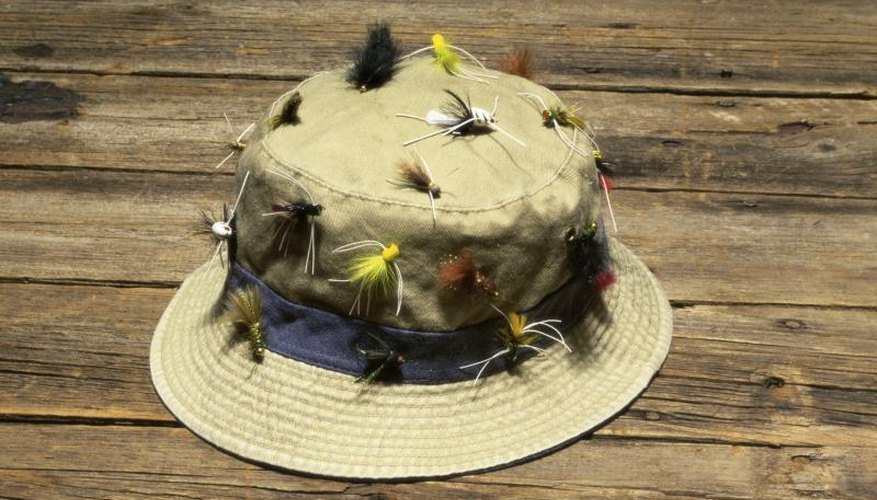 Attaching a fishhook to your hat is easy but you must protect your head from contact with the point. Lures, flies and bare hooks add style points to your favorite fishing hat. The hooks also function as spares when your tackle box is empty. A properly placed hook will not come loose from the hat material.
Bill Attachment
The bill of a baseball hat provides the best space for attaching hooks. The bill is firm, does not make contact with your head and the hook is visible to others without interfering with your vision. Hold the point of your hook against the bill using a shallow angle. You only want a small section of the hook buried in the hat. Apply firm pressure to insert the hook.
Cap Attachment
Use caution when attaching hooks to the cap section of your hat. Push the hook point downward through the cap. Rotate the hook and push the point upward through the top of the cap. The double point of entry stabilizes the hook and the upward angle of the point protects your skin. Use a metal file to dull the hook point if you do not plan on using the hook in the future.
Manufactured Clips
Decorative fishing hooks are available specifically for hats. The hooks have no point and they use a clip or pin for attachment. Hat hooks with a bare hook are also available for fly tiers. Tie your favorite pattern on the false hook and attach the pin to your hat.
Writer Bio
Zach Lazzari is a freelance outdoor writer specializing in hunting, fly fishing and the general outdoors. He guided fly fishing trips for 10 years in Colorado, Alaska, Montana and Patagonia-Chile. Zach lives in Montana and splits time between the river and keyboard.