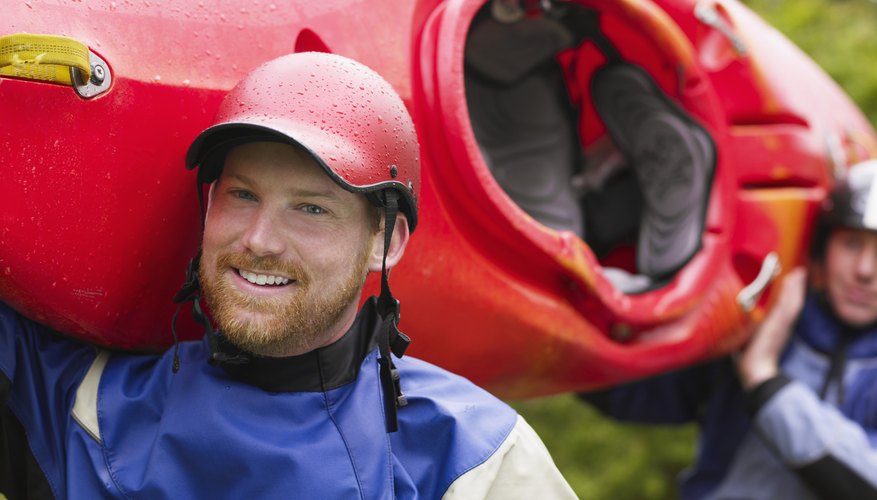 For a desert state with no coast, Arizona is popular for kayaking. Many of the rivers flowing through the state have been dammed, creating massive fresh water lakes perfect for year-round kayaking. Rivers dependent upon snow melt and rainfall to get flowing are seasonal, but can be kayaked during certain parts of the year. Armed with sun protection and plenty of drinking water, Arizona kayakers can get a great workout in a scenic setting.
Kayaking Valley Lakes
Marinas at Scorpion Bay and Pleasant Harbor at Lake Pleasant Regional Lake rent kayaks. In conjunction with outdoor retailer Cabela's, introductory lessons are offered. The Maricopa County Parks and Recreation Department lead guided trips and group events. Precision Marine rents kayaks on Saguaro Lake, a part of the Tonto National Forest. The marina at Roosevelt Lake does not rent kayaks. Roosevelt Lake has a reputation as a personal watercraft and motor boat destination, but paddlers can and do find quiet places, particularly on the east end of the lake.
Mountain Lakes
Big Lake, at an elevation of 9,000 feet in the White Mountains, restricts motorized boats to electric and small gas engines; kayakers do not compete with big boats here. Several U.S. Forest Service campgrounds are adjacent to the lake, which is stocked with trout. South of Flagstaff, Upper Lake Mary is long and narrow. While power boats and water skiers use Upper Lake Mary, kayaks, canoes and sailboats are common. Three boat ramps and campgrounds are nearby.
Paddling Dry Washes
Dry wash is a common term that refers to a riverbed that does not run year-round. Most of the high desert rivers and streams in northern Arizona meet this criterion, but during monsoon season -- typically in July and August -- rainfall upriver floods into the washes. Kayakers who can go at a moment's notice will find exciting, fast-moving but muddy rivers that only flow for a few days. The Little Colorado River between Joseph City and Winslow is one stretch whose popularity results from easy put-ins and take-outs. After a good rain, the normally dry wash can run at a rate of 5,300 cubic feet per second.
Recreational Areas
Both Glen Canyon National Recreation Area and Lake Mead National Recreational Area are big on power boating, but kayakers can find plenty of quiet coves to explore. Launching a kayak does not require a launch fee. Marinas on both lakes can provide information and directions to areas that are not teeming with larger boats. Be warned that invasive mussels have infiltrated Lake Mead. The National Park Service recommends a complete visual and tactile inspection of your kayak for young mussels. It also suggests washing your kayak with hot, soapy water or a 5 percent solution of bleach before launching it in another lake.
Kayaking the Colorado River
The Colorado River marks Arizona's western border with Nevada and California. Kayakers can launch from just below the Hoover Dam in Lake Mead National Recreation Area. Getting to the launch requires advanced planning with an authorized livery service. The section of river between the dam and Willow Beach is a motorless zone on Sundays and Mondays year-round. In Yuma, near the end of the Colorado's Arizona stretch, kayaking tours are offered on Class 1 waters.
References
Writer Bio
Karen Sweeny-Justice is a writer living in Surprise, Ariz. Her work has appeared in "Writer's Digest" magazine and "RubberStampMadness" magazine, as well as in newspapers around the United States. She also writes book reviews for "RT Book Reviews" magazine.