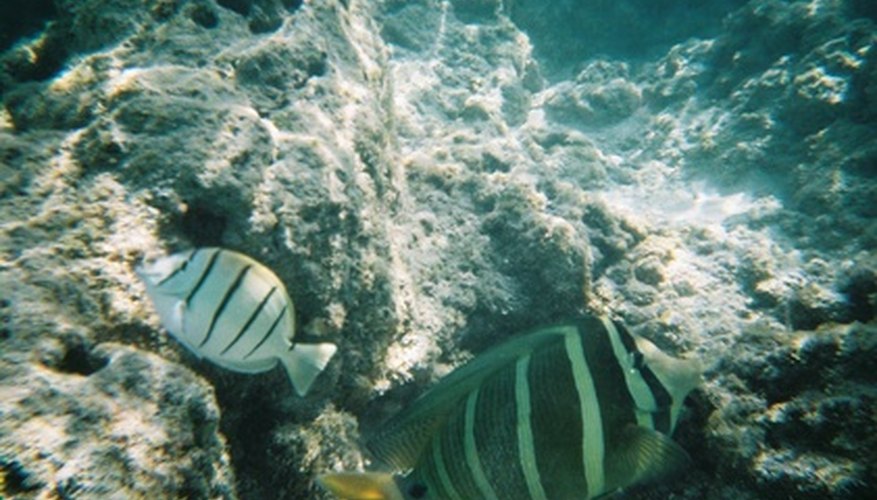 Oahu is known for fishing charter trips, but the island's shore fishing adventures should not be missed. Oahu has 112 miles of shoreline, according to the Oahu Visitors Bureau. The island has a variety of shore fishing opportunities for novice and experienced fishers. Enjoy catching trophy game like bonefish, trevally and bluefin in picturesque locations around this Hawaiian island. You'll be sure to meet friendly locals who will gladly share tips while shore fishing in Oahu.
Oahu Bays
Bay fishing in Oahu is one of the best places for catching smaller fish like goatfish and papio, according to Frommer's. \"Sport Fishing\" magazine recommends using live baits for bay fishing. Locals use live sand worms and sand crabs bought in nearby tackle shops.
Fish Pokai Bay in Honolulu, Waialua Bay at Haleiwa and Kaneohe Bay along the Kamehameha Highway. According to the Hawaii Division of Aquatic Resources, Waialua Bay and Pokai Bay are regulated fishing areas that permit net fishing for crabs and shrimp. Shrimp can only be caught with a hand net and are to be used as bait.
Beaches and Piers
Don't pass up an opportunity to do some shore fishing at the beaches and public piers in Oahu where fishing is allowed. The Recreational Boating and Fishing Foundation suggests fishing on piers because the rocks underneath them attract fish. Swing your bait under the pier to catch the fish that are wading underneath it.
There are piers at Pearl Harbor, Wailua Bay and Sand Harbor. Fish on Oahu's southeast shore at Makai Pier on Waim?nalo Beach and head over to Ewa Beach on the southwest shore to catch fish like ulua, kahala and beautiful kagami. Some species have closed fishing seasons. Also, make sure to find out the size and possession limits of each beach with the Hawaii Division of Aquatic Resources before heading out.
Harbor Fishing
Catch a variety of saltwater fish at one of Oahu's harbors. The World Wide Fishing Guide has reported that using shellfish, shrimp and squid for bait at Haleiwa Small Boat Harbor on the North Shore area will attract skipjack tuna, surgeonfish and whitefin trevally.
Harbor fishing can be done on the south shore of Oahu at Pearl Harbor and Honolulu Harbor. Do some shore fishing on the east coast at He'eia Kea Small Boat Harbor in Kaneohe. The Hawaii Fishing News' saltwater fishing records show that green jack, ladyfish and colorful goatfish have been caught at these harbors. Their records also indicate that Samoan crabs can be found at Pearl Harbor.
References
Writer Bio
Based in Los Angeles, Stephanie Armstrong has been a professional writer since 2006. Her articles have been featured on websites such as PopEater, Moviefone, AT&T, GoDaddy, The Frisky and more. Armstrong holds a Bachelor of Science in film and television from Boston University.