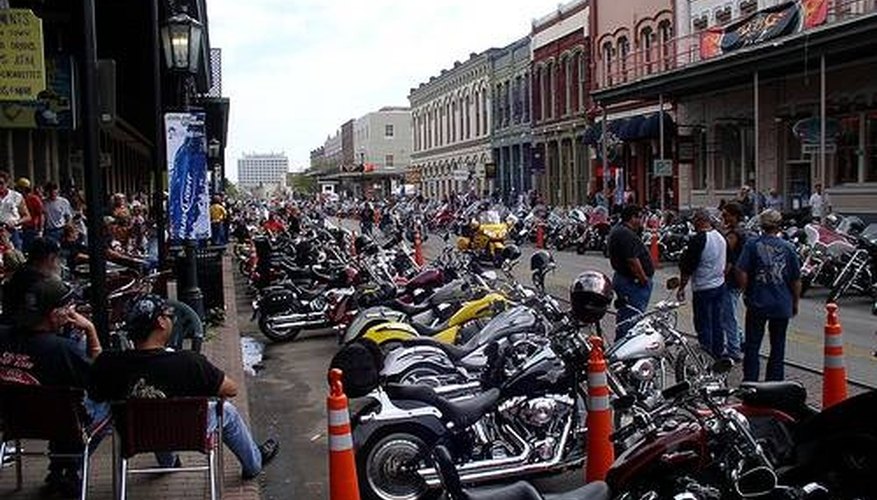 Motorcycle fundraisers can be a great way to show off your bike and enjoy an afternoon with other bike enthusiasts. These type of fundraisers are not only fun but also benefit many organizations and charities. There are several motorcycle fundraiser ideas that allow individuals to participate in and help their particular cause.
Ideas for Fundraisers
Some of the things you can do to have motorcycle fundraisers include charity bike rides and poker runs. Most organizations usually host charity bike rides in the spring and summer to ensure a great turn out because of warmer weather. The riders start at an initial place and then ride as a group to a designated location. Once the ride ends, there is usually a cook out and live music to get people to stay awhile and spend more money at the fundraiser.
Poker runs are a little more complicated in that all of the participants leave at a designated time and follow a route on a map to get to the next stopping point. The fun part of the poker run is that the rider has a checklist of certain items he or she must find along the way. At each stopping point, the rider gets a poker card and depending on the card, the rider may be eligible for prizes. At poker runs, most of the money goes to the charity or organization and the remainder of the money goes to the winning riders.
Other Suggestions
Other motorcycle fundraiser ideas include auctions, raffles and motorcycle shirt sales. Motorcycle memorabilia and vintage motorcycles are great for auctions due to the history behind the bikes and motorcycle collectibles. Raffles are usually popular fundraisers because the items raffled off are often expensive and may range from customized choppers and bikes as well as helmets and other gear. Individuals usually go to the raffles and buy many tickets to increase their chances at winning, resulting in good sales for the fundraiser.
Along with the other fundraiser ideas, t-shirt sales are a great fundraiser for the motorcycle enthusiast. Men and women riders typically take pride in sporting a shirt from a motorcycle event they have attended. On most shirts, the name of the event is on the front or back including the date and location. Often shirt sales for fundraisers will include other vendors that have jewelry, vintage bike clothes and other apparel. The event makes money because participants can pay a set price to attend the fundraiser and then can buy as much as they want, usually at a cheaper price, instead of purchasing the item in a store.
Liability and Insurance
If hosting a motorcycle fundraiser that involves the participant riding in the event, it is important to have each entrant sign a release of liability form and provide proof of insurance. The liability form should indicate that if the rider is involved in a wreck or any type of potentially harmful incident, the rider could not hold the organization liable for the incident.
References
Writer Bio
Erin Oxendine has numerous years of experience working as a writer, paralegal, notary and artist. She obtained her Bachelor of Arts from Newberry College and has been a professional freelance writer for several years with an emphasis on legal and health-related articles; she wrote for her college newspaper.