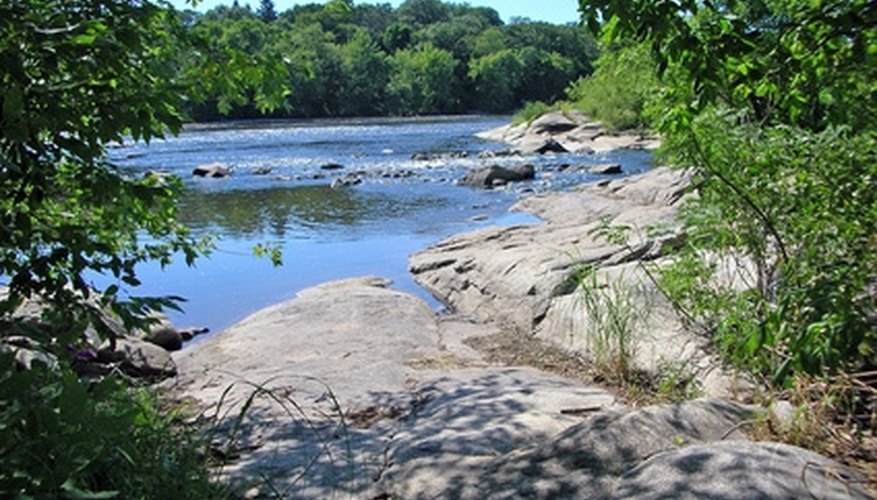 Paddling the waterways of Mississippi can bring hours of peaceful enjoyment communing with nature, photographing wildlife or casting a line to reel in a variety of fish. State boating laws regulate those embarking on the water in kayaks as well as motorized craft.
Permitted waterways
Any waterway having a mean annual flow of 100 cubic feet per second or greater as determined by the Mississippi Department of Environmental Quality is considered a public waterway even when flowing through private land. Normal kayaking activity such as portaging or tying up to a tree is not considered trespassing as long as it is done below the river's high water mark.
PFD requirements
According to the Center for Disease Control (CDC), the primary site of drowning in those over 15 years of age is on recreational waterways. The CDC estimates that nine in 10 fatalities could be prevented through use of a life jacket. Mississippi requires a personal flotation device be easily accessible for each occupant of a kayak and that children under 13 be wearing one at all times when the vessel is in motion.
Boating License
While the state does not require kayaks to be registered, operators born after June 30, 1980, must obtain a Boater's Safety Education Card to legally kayak Mississippi's waters. Free online classes and testing over the internet offer convenient ways to comply with this requirement.
Special rules for children
In addition to being required to wear a flotation device, boaters younger than 13 years old must have an adult in the kayak with them. There is no minimum age to obtain a boating education card for children so they can assist in paddling a multi-occupant kayak.
Waste Disposal
Dumping trash or human waste in state waters is prohibited in the state of Mississippi. In addition, waters south of Interstate Highway 10 require kayaks to carry secured bags or other receptacles for trash as well as a method to seal and remove solid human waste.
References
Writer Bio
Indulging her passion for wide open spaces and outdoor fitness through the written word on a full-time basis since 2010, author Jodi Thornton-O'Connell takes the mystery out of outdoor skills and guides readers to discover fun ways to physically connect to natural surroundings.