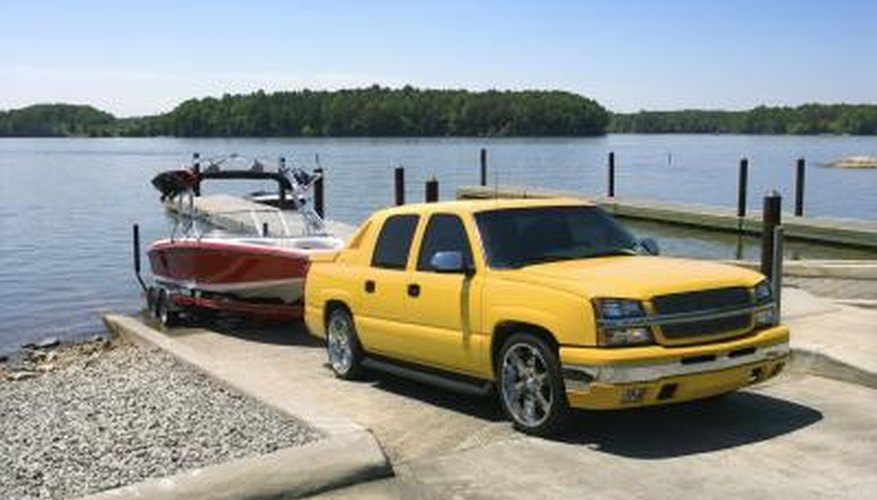 Boating trailers are essential equipment for those who enjoy watercraft. Between fall and spring, when snow and ice cover the water, boats are removed from the water and stored in weather-protected facilities. Because pontoon boats are typically moved only twice a year due to inclement weather, boat owners who are skilled with metal fabrication tools can build a simple pontoon boat trailer from a simple materials list.
Steel Bar Stock
The frame of the trailer is fabricated from various sizes of square tubing steel stock. Easy to cut and welded into a rugged frame, the square steel tubing is available from steel fabricators and commercial building supply houses. Flat 1/4- to 1/2-inch thick steel plates also are needed. These plates are cut and welded into the corners of the frame as gusset plates. The combination of square tubing and reinforcing gusset plates create a reliable and lightweight boat trailer frame.
Wheels and Axle Assembly
All the components for the wheels and axles for the trailer are available at local trailer supply or farm supply retailers. However, a simple solution for a DIY boat trailer is the rear axle and suspension assembly from an old pick-up truck. Pick-up truck bodies or motors typically fail before the undercarriage suspension and rear axle parts do. As a result, these parts are available from a local salvage yard. The wheels, axle, leaf spring suspension and shock absorbers can be removed from an old truck and fabricated directly onto the metal boat frame. These parts are already weather- and water-tight, and are rugged enough to carry even large boats.
Lights and Electrical
A simple electrical system is required for any boat trailer. Rear running, brake and turn signal lights are required before the trailer is street-legal. These parts are available at any local automotive parts store and are easily wired into the trailer. When purchasing these parts, make sure to select water-tight equipment that is rated for complete submersion in the water. When the boats are loaded and unloaded, the rear end of the trailer and the lights are completely submerged.
Specialty Parts
Boat owners will have to purchase a few specialty parts and fittings as they complete their boat trailer. The tongue fitting is designed to sit on a trailer hitch ball and connect the trailer to the hitch. A standard pivoting wheel jack mounts to the front of the frame and supports the trailer when it's not attached to a vehicle. A winch is also needed to pull the boat out of the water. The winch cable stays connected to the boat in transit, mechanically anchoring the boat to the trailer. Each of these parts must be welded or bolted onto the frame to complete the boat trailer.
Wood Skids and Carpeting
A pontoon boat is supported while it's loaded on the trailer by long, carpeted runners. These runners come in contact with the thin-skinned metal pontoons, therefore they must be smooth and strong enough to support the weight of the craft, yet not risk damaging the pontoon. Pressure treated 2-by-4 lumber that is covered with indoor/outdoor carpeting creates an excellent runner. The wood is strong, yet soft enough so there is no risk of damaging the pontoons during loading, unloading or transport.
References
Writer Bio
Since 2003, Timothy Burns' writing has appeared in magazines, management and leadership papers. He has contributed to nationally published books and he leads the Word Weavers of West Michigan writers' group. Burns wrote "Forged in the Fire" in 2004, and has published numerous articles online. As a trained conference speaker, Burns speaks nationally on the art, science and inspiration of freelance writing.