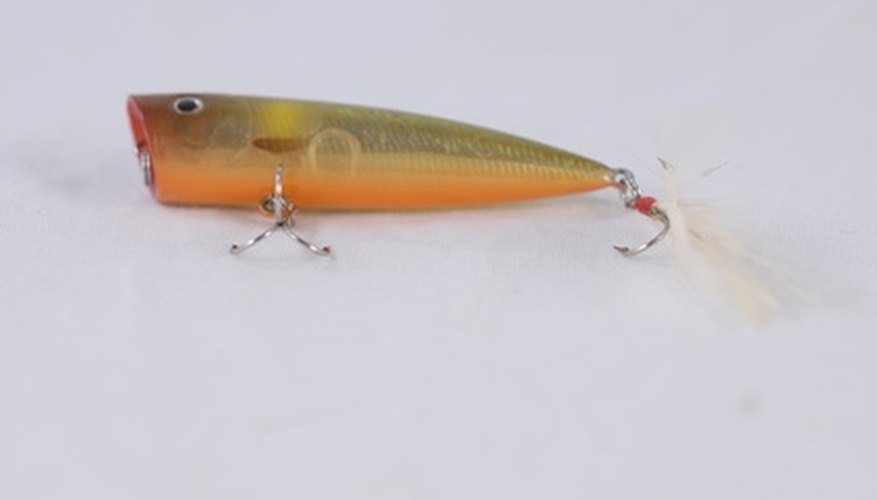 Anglers sometimes decide to turn their enthusiasm for fishing into an entrepreneurial venture. One way is to market a line of fishing lures that they enjoy using and have proven productive. However, the sport fishing industry is full of new and improved lures. Unless you have a lure that wins a major tournament and receives instant notoriety you will also need to establish a plan for marketing your new lure.
Items you will need
Materials for lure making

Business plan

Packaging

Sample lures
Decide on the type of lure you will make at home. Stick with what you know and have had success with. Choose a lure that you have experience with or expertise using. Also consider the natural resources in your location. If you live near a trout stream, for example, consider concentrating on flies or line spinners. Also take into consideration the difficulty of making the lure in terms of time as well as the materials you'll need to produce the lure.
Make and perfect your lure design before quitting your day job. In fact, you may not ever be able to quit your primary source of income as lures may only be a supplemental source of income. Before you begin test-marketing the assembly and painting steps required to make a lure should be reduced to as few as possible.
Tell everyone you know that you are making lures. Let your fishing buddies, friends, family and even total strangers you meet on the water know that you have the next great thing for fishing. Be prepared to hand out samples of your lure in exchange for testimonials you can use in your advertising. People love free stuff, especially if it works. People also typically love to see their name and picture featured in media.
Talk with owners of tackle shops, bait shops, convenience stores and other outlets that may consider carrying at least a few of your lures as a test. Pay particular attention to outlets that are located close to fishing waters where anglers may stop for gas, food, bait and supplies. It only takes one big fish caught on your lure to start word-of-mouth enthusiasm.
Package your lure so that your name and contact information is readily available. Make sure anglers know how to let you know about any success they have with your lure and, even better, how to order more lures.
References
Writer Bio
Keith Dooley has a degree in outdoor education and sports management. He has worked as an assistant athletic director, head coach and assistant coach in various sports including football, softball and golf. Dooley has worked for various websites in the past, contributing instructional articles on a wide variety of topics.