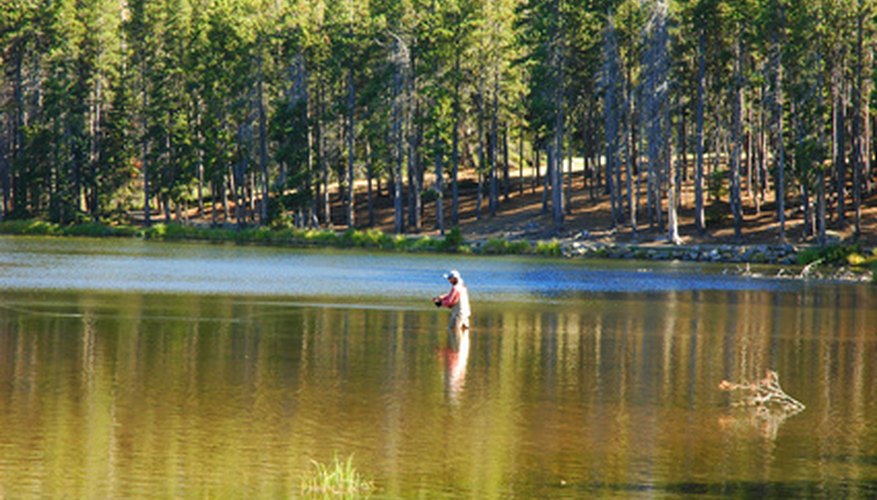 According to Orvis, a leading manufacturer of high-end fishing equipment, steelhead are related to Atlantic and Pacific salmon and can be found throughout North America's west coast, Russia's Kamchatka Peninsula and the tributaries of the Great Lakes. Anglers pursue the steelhead to experience the challenge of hooking a fish and the thrilling fight to land the fish. As a result of the specialized techniques needed to catch steelhead, professional anglers and fishing companies recommend several rods and reels.
Bait Casting Reels
One of the most effective steelhead fishing techniques is drift fishing which involves casting a bait upstream and allowing the bait to drift naturally downstream. Steelheader.net recommends using bait casting reels for drift fishing because they provide superior casting precision and control. After casting the bait upstream, the open spool on the reel allows you to control the amount of line released from the reel to maximize the amount of time the lure spends near the steelhead. Matching the reel with an appropriate bait casting reel can improve the overall performance of the bait casting reel. Bait casting reels are also available in a variety of shapes and sizes to accommodate different steelhead fishing conditions.
All-Purpose Rods
For a beginning steelhead angler, Dennis Hull, owner of Bite Me Guide Service in Oregon, recommends an all-purpose fishing rod. Most steelhead fishing rods will measure between 8 feet and 11 feet in length but an all-purpose rod will measure 8.5 feet in length. Longer rods can be hard to cast in tight fishing conditions while an 8.5 foot rod provides casting ability, control and versatility. Choose a rod weight between 12 and 20 lb. test for confidence and durability while retrieving a steelhead.
Fly Fishing
Fly fishing for steelhead can provide a challenging fishing opportunity for even experienced anglers. According to Dick's Sporting Goods, choosing the proper fly fishing equipment for steelhead can increase your chances for success. They recommend using a 7- to 8-weight fly rod and reel that provides the power needed to cast big flies and retrieve the powerful steelhead. Disc drag fly reels use a braking system that helps to control the tension on the fly line during casts and retrieves. The brake system helps to successfully land steelhead by preventing the steelhead from taking hundreds of feet line out of the reel.
References
Writer Bio
Based in Nebraska, Jeremy Hoefs began writing fitness, nutrition, outdoor and hunting articles in 2006. His articles have been published in "Star City Sports," "Hunting Fitness Magazine" and RutWear field journals, as well as on the Western Whitetail website. Hoefs graduated with a Bachelor of Science in exercise science from Nebraska Wesleyan University.