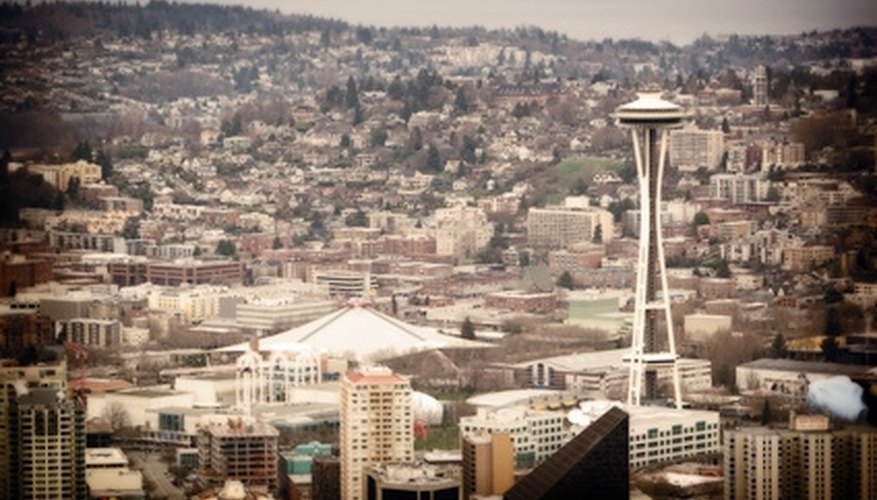 Seattle is an exciting and growing city, with much to offer both visitors and residents alike. In addition, Seattle is located nearby many stellar opportunities for hiking, skiing, camping, and other outdoor activities. Seattle could be an appealing destination for a long-term trip, and if that is the case, several RV parks both within Seattle and in the surrounding areas will provide excellent, affordable long-term options for respite.
Ranier View RV Park
Located 40 miles from the city center of Seattle, in the small town of Graham, is the Ranier View RV Park. It is located within sight of Mt. Ranier, which is 30 miles away. The park offers 55 back-in only RV sites with both 30 and 50-amp electrical service. Amenities include free wireless Internet, coin-operated laundry, unmetered showers, an exercise room, a pool table, horseshoes, and an onsite nature trail. The park staff prefers that RVs be in relatively good condition. The park frequently fills up in the summer, so it is best to make reservations as far in advance as possible.
Ranier View RV Park 25015 Meridian Ave E Graham, WA 98338 253-875-9999 rainierviewrvpark.com
Blue Sky RV Park
Located in Issaquah, just outside of Seattle, is the Blue Sky RV Park. It is located nearby to Snoqualmie Pass, as well as wineries, breweries, horse racing, casinos, fishing, and golf. The park offers its guests sites with full hook-ups, 30 and 50-amp electrical service, cable television, paved parking pads, trees and landscaping separating each site, and level pull-throughs at every site. Amenities include a gazebo, picnic tables, barbecues, a recreation room, bathrooms, laundry facilities, and a dumpster across the street.
Blue Sky RV Park 9002 302nd Ave. SE Issaquah, WA 98027 425-222-7910 blueskypreston.com
Seattle/Tacoma KOA
Located only 20 minutes away from downtown Seattle, the Seattle/Tacoma KOA Campground is considered the closest RV park to the city center. The campground is located on the Green River, and offers deluxe RV sites with 30 and 50-amp electrical service, water, and sewer. The campground amenities include free wireless Internet, speciality coffee, guided tours of Seattle, a playground, a jogging and bike path, and a seasonal outdoor pool and pancake breakfast.
Seattle/Tacoma KOA 5801 S 212th Kent, WA 98032 1-800-562-1892 253-872-8652 seattlekoa.com
Maple Grove RV Resort
Maple Grove is located just north of Seattle, in Everett, right off I-5 and I-405. Seattle is about a 15-minute drive from Seattle. Maple Grove offers three different types of RV sites, each designed for different sizes of RVs: pull-through sites are designed for larger RV models, perimeter sites for slightly smaller models, and are back-in sites, and split sites are back-ins for smaller sites. Every site features clean concrete pads, 20, 30, or 50-amp electrical service, cable television, and a high level of security.
Maple Grove RV Resort 12417 Highway 99 Everett, WA 98204-5508 866-793-2200 425-423-9608 maplegroverv.com
References
Writer Bio
Justin Mitchell has been a writer since 2009. In 2002, he received a B.A. in theater and writing from the University of Northern Colorado. Mitchell worked as an ESL teacher in Europe and Asia before earning a master's degree in journalism from the City University of New York. He has written for the "New York Daily News" and WNYC.org, among other outlets.