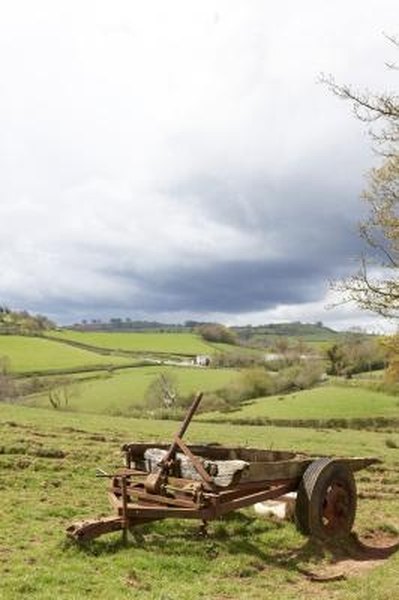 Titling a utility trailer in Ohio is a legal requirement that is easy to meet with the correct information and records. Trailer owners should independently verify all information and contact their local Bureau of Motor Vehicles (BMV) office to be sure no updates in the law have been made; otherwise, they may have to wait in long lines and be required to return to the office. It is important that utility trailer owners register their vehicle within 30 days of acquisition in order to avoid additional late penalties on registration fees.
Items you will need
Utility trailer

Proof of ownership

Title application

Fees

Taxes

VIN verification, if applicable

Weight slip, if applicable
Determine if the weight of the trailer is less than 4,000 lbs. If so, open your Web browser and go to agri.ohio.gov/divs/weights/WMSearchIndex.aspx?type=vs to find a weight station near your home that can verify the trailer's official weight and provide you with a weight slip that you must present along with proof of ownership.
Download the title form from the BMV at bmv.ohio.gov/bmv_forms.stm and fill out all fields. Trailer owners without Internet access can pick up a copy of the application at their local BMV office.
Obtain an Ohio out-of-state VIN verification from your local deputy registrar's office if the vehicle does not currently have an Ohio title.
Visit the county title office to submit forms and payment, which is usually about $50 (cost as of 2011), if the trailer weighs more than 4,000 lbs. A utility trailer weighing less than 4,000 lbs is not eligible to receive a certificate of title; however, small-trailer owners must report to the deputy registrar's office to apply for plates and registration.
Call the local BMV office to verify you have all the necessary paperwork before you leave your home and find out current fees and charges to title your trailer.
References
Tips
Writer Bio
Adelaide Tresor has been a technical writer and book editor since 2006. Her work has been published by Thomson Reuters and Greenhaven Press, including several "At Issue" titles. Tresor holds a bachelor's degree in journalism and is also a certified teacher with experience in English, mathematics, chemistry, and environmental science. She currently teaches AP Physics.