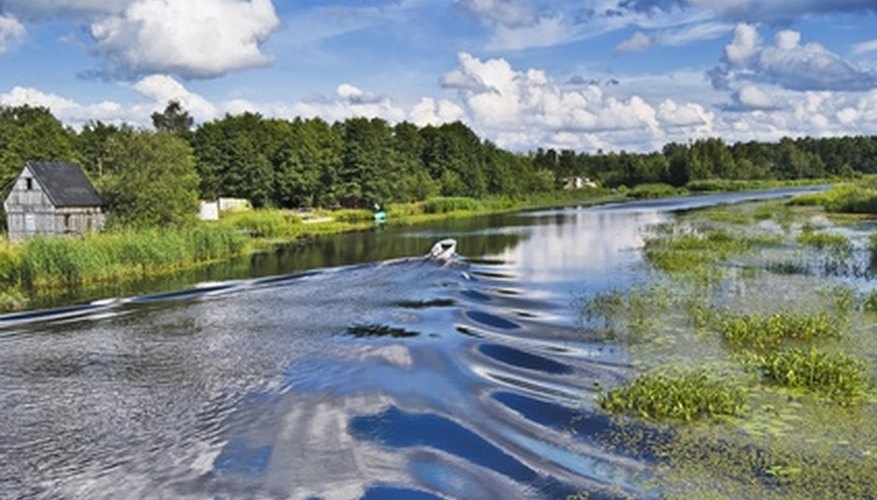 Evinrude outboard motors have been on the market for more than 100 years. The Evinrude outboard motor has become a staple of novice to professional boaters who want quality workmanship and a brand they can trust. Evinrude, started by Ole Evinrude, began to change directions after his wife Bess became ill in the early 20th century. This life changing event caused him to sell half of his Evinrude business. Bess became better and Evinrude started producing outboards again. The result was the Evinrude Light Twin Outboard (ELTO). The ELTO ushered in a time of innovation for Evinrude to include the use of aluminum to reduce the weight of the outboard and moving the exhaust of the outboard underwater.
Locate the identification number on the ELTO outboard motor. The top side of the bracket is a tag made of metal containing the word Evinrude with a series of numbers. In the event the metal tag is not legible, look for a core plug which is silver. The core plug will have the serial number and the model number on it.
Review the first letter of the eight- to 12-digit identification number. The identification number identifies the style, design features, shaft length, the year the ELTO outboard motor was built, and the model run. If the first letter is E, then the outboard motor is an Evinrude.
Look at the next set of numbers. Listed will be one number and no more than three numbers notating the horsepower from 2HP to 300HP.
Locate the following set of characters which identifies the features of the design: Counter Rotation - C, Remote Electric - D, Electric Start with Remote Steering - E, 4-Stroke motor- FA, 4 Stroke with Tiller Electric - FE, 4 Stroke Rope Start - FR, Ficht Fuel Injection - I, Jet Drive K with 3 Cylinder 25/35 hp - J, Manual Tilt and Electric Start - M, Manual Tilt with Electric Start Special Model - MS, Counter Rotation - N, Power Steering - P, 3 Cylinder 25/35 Trim and Tilt - Q, Rope Starter - R, Commercial Grade- RW, 600 V Trim and Tilt - SL.
Locate the next character which is associated with the length of the shaft: 15-inch shaft - blank, 20-inch shaft - L, 22.5-inch shaft - Y, 25-inch shaft - X, 30-inch shaft - Z.
Review the code "INTRODUCES" on the ELTO outboard motor to determine the year in which it was produced. Each letter in the word INTRODUCES corresponds to a number from 1 to 9 and "S" corresponds to 0.
Writer Bio
Richard Banks started freelance writing full-time in 2010. Specializing in business, parenting, fitness and weight loss, Banks currently writes for DaddysatHome.com. He studied music education and elementary education at Glenville State College and business management at Shepherd University.