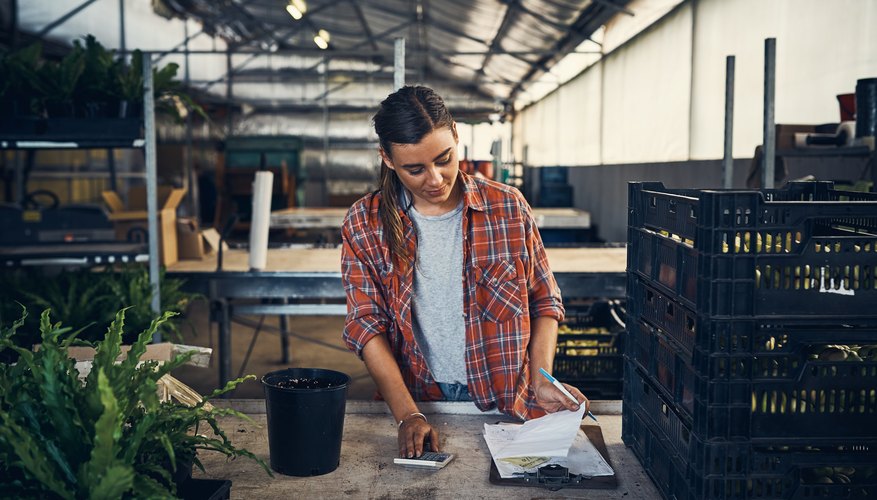 Farmers need more supplies than just feed and seed to raise animals and grow crops. These supplies are usually purchased by farmers at local farm supply stores or through farm elevator co-ops. Opening a farm supply store doesn't require special knowledge about crops and animals, which makes it possible for almost anyone to start a farm supply store.
Find funding to start the store. There are a number of loans available for a farm supply store from the federal government's Small Business Administration. These loans offer a number of different finance options depending upon the needs of the business and the person taking out the loan. Funding for a farm supply store can also come from a private investor or donor. This usually consists of one or more people using their own money to finance the start of the store, and in return will receive a percentage of the profits.

Buy or lease a store facility. Ideally farm supply stores should be located near the edge of a large city or in a rural area, as these provide farmers with easy access to the store. Owners can choose to lease or purchase a facility to house the store although it needs to contain adequate room to house the many products and farm supplies they provide including large bags of grain, feed, seed and fertilizer. All products don't have to be housed on shelves for customers to see and pick up. Instead, they can place orders at the counter for large items, and a person can bring the items over from a warehouse or storage facility on the property.

Learn about farming needs in the area. In different areas and regions of the U.S., farmers have different crops and animals. For example, in Wisconsin, California and New York, dairy farms are the largest agriculture businesses, while the state of Iowa has the highest production of corn, according to the National Milk Producers Federation and the Iowa Corn Growers Association.

Find a supplier. Wholesale supplies for non-consumable products can be found by contacting product manufacturers to determine if they sell wholesale directly to stores or use a wholesale supply company. For consumable products such as grain, seed and feed, however, a farm supply store needs to find a person or company to provide these. For example, a farmer in the area may be able to provide alfalfa feed or hay bales to the store.

Hire staff for the store. To stock items and assist farmers in making purchases, a farm supply store needs to hire staff. Any individual(s) hired for this position should know how to run a cash register and answer the phone. They also should be able to lift heavy objects around 50 pounds, as this is what many of the feed and seed bags weigh.

Arrange for delivery services. Farmers often need supplies but are unable to make the trip to the store to pick them up. Additional profits can be made if a farm supply store provides delivery services for fee to farmers. This allows them to keep working in the field or with their animals while the company makes a slightly larger profit.

Consider offering additional supplies. While the main purpose of a farm supply store is to provide the products a farmer needs to tend to livestock and crops, additional money can be made by adding other supplies. Pet supplies, especially for dogs and cats, are beneficial to both farmers as well as residents of nearby cities and metropolitan areas. Gardening tools, supplies and seed also can bring in non-farm customers as well.

Promote the store. Spreading the word about a farm supply store is important for it to be profitable. Farm supply stores need to advertise and market their services to farmers since they are the store's primary customers. Doing radio or television ads during the grain and livestock markets each day is a great way to promote a farm supply store since farmers listen to the markets daily.
References
Resources
Writer Bio
Allison Dodge has been a writer since 2005, specializing in education, careers, health and travel. She has worked at educational institutions for more than 10 years. Dodge has a master's degree in education administration.