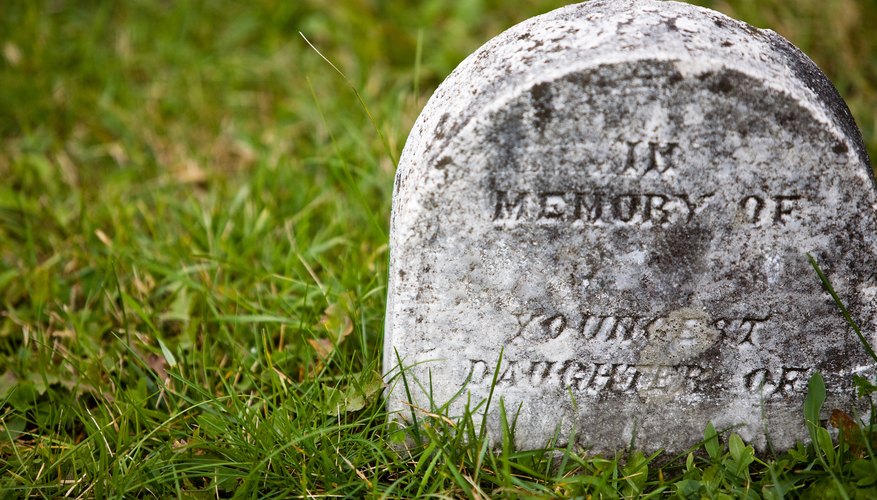 Once upon a time, farmers across rural America created fairly insular communities within the boundaries of their property lines. Barns housed animals. Fields yielded crops. The homestead kept family under roof and when loved ones died, they were interred in a grave dug on family property. Over time, entrepreneurs began to see the establishment of public cemeteries as yet another cash business—and farm burials grew infrequent. If you're exploring the idea of establishing a home farm cemetery, carefully consider your local laws and practices before it's time to dig that first grave.
Consider the size of your farm as it relates to your neighbors. Burying people on a huge tract of land where the cemetery can be sequestered in a secluded area is a far cry from owning a tract of farmland that's so small, neighbors will be able to see (and protest) the installation of your family graveyard.

Make certain you are legally allowed to establish a cemetery on your property. Crowded communities across the land are starting to institute cemetery construction bans, be they private or public-use installations.

Speak with area zoning and building officials and health department authorities to find out if you'll need an environmental impact study to establish a cemetery on your farm. Learn all you can about underground water tables and utilities that may be too close to the surface to allow certain sections of your farm property to be used for burials.

Find out if the deed to your farm property prohibits the installation of a cemetery, and learn whether you'll need to have your land rezoned from strictly farm to commercial if you build your family graveyard there.

Take into consideration future sales implications that could arise should you decide to move from the farm in the future. Don't discount the emotional factors and cost of either leaving loved ones behind or relocating their remains at a future date.

Ask authorities if a public hearing will be required so you can legally apportion part of your farmland for cemetery use. Find out if sanctions required of public cemeteries in your state and community for vehicle and foot traffic at public cemetery sites also apply to your cemetery installation.

Ask state regulatory officials if you'll be required to obtain a license to run your private cemetery. Contact your government's website to find out which bureau handles such matters (For example, State of Illinois farmers would be required to clear the installation of a family cemetery with the Cemetery and Burial Trust Department that falls under the purview of the state Comptroller's office.) to get answers to licensing and other questions you may have.

Consult a manual or other guidebook to learn how to prepare the land you've earmarked for your home farm cemetery. Rent earth-moving equipment to prepare the soil. Install a fence around the perimeter. Invite local clergy to bless the ground, as this will no longer be a section of your farmland, but rather a holy place.

Items you will need

Vacant farmland

Permits/licenses/variances

Environmental impact study

Talk to neighbors before you begin to work establishing a private family cemetery on your farm. Explain what you're doing and why you're doing it. Give them a little time to get used to the idea as well as inviting them to articulate any discomfort they may feel about your installation.
References
Writer Bio
Based in Chicago, Gail Cohen has been a professional writer for more than 30 years. She has authored and co-authored 14 books and penned hundreds of articles in consumer and trade publications, including the Illinois-based "Daily Herald" newspaper. Her newest book, "The Christmas Quilt," was published in December 2011.