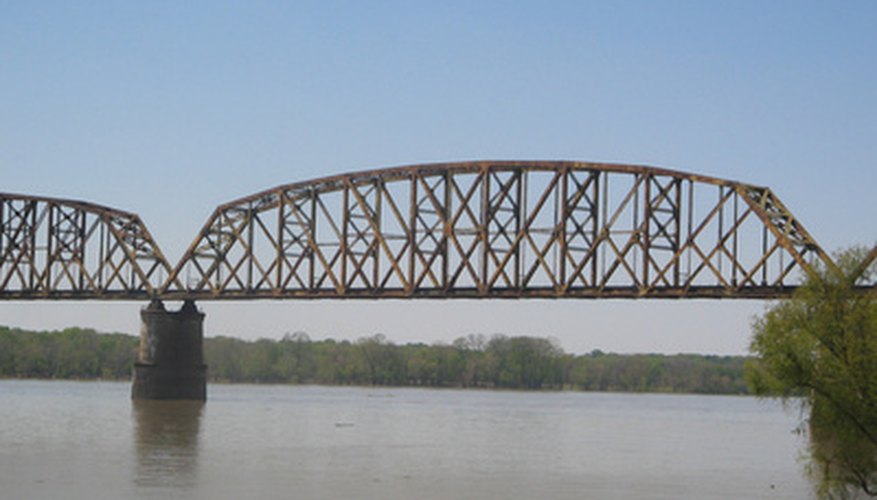 Camping along the Ohio River provides ample opportunities for family-bonding activities. The quiet towns along both sides of this river's bank are a welcome retreat from the hustle and bustle of everyday activities. Campers will enjoy many outdoor activities along the river such as boating, fishing, water sports, hiking and bicycling.
Indiana State Parks
There are a few Indiana state parks along the Ohio River that allow camping. These parks include Clifty Falls State Park near Madison, Deam Lake Recreation Area near Clarksville and O'Bannon Woods State Park near Corydon. While camping at any of these parks, you'll have plenty of opportunities for swimming, boating, hiking and fishing. You may also enjoy playing tennis, volleyball, basketball and horseshoes.
Kentucky
There are several campgrounds in the state of Kentucky that are located along the Ohio River. Boone's Landing Marina and Campground near Union and River Ridge Park near Burlington both have boat ramps on the river. The Ohio River Public Wildlife Area near Birdsville is an ideal location for fishing, hunting, bird watching and canoeing.
Shawnee National Forest
The Shawnee National Forest is located along the Ohio River near Harrisburg in southern Illinois. This forest has 11 campgrounds that are located in close proximity to the wilderness. These campsites range from horse camps to campgrounds that will accommodate RV campers. Pyramid Acres also has a marina, while Williams Hill Pass has an area for ATV riders. Visitors to the Shawnee National Forest may enjoy hunting, fishing, hiking and horseback riding.
Ohio State Parks
There are two Ohio state parks located on the Ohio River. These parks are Shawnee State Park in the southeastern part of the state and Forked Run in the south central part of the state. Shawnee Park allows tent, RV and horse camping. During your stay you can ice fish, play tennis or soak in a jacuzzi. Forked Run has sites for tents and personal campers only. All sites at this park have electrical hookups. Forked Run also has opportunities for hunting, sledding and swimming.
Permits
Camping permits are required for Indiana, Kentucky and Ohio state parks. These permits may be obtained at the park office at each location. Camping permits are required for private campgrounds along the river. These permits are obtainable from the campground owner. Camping permits are not required for permanent campsites if they are being occupied by the landowner.
Seasons
Camping along the Ohio River can be an especially enjoyable experience in autumn when trees will begin to change colors. In the spring, you will be delighted by blooming dogwood trees and various wildflowers. In the summer, you may enjoy viewing fireflies in the evening. Winter along the banks of the Ohio River are suitable for hunting if permission is obtained from area landowners.
Flooding
The Ohio River is prone to flooding, especially during the months of March and April. Campers with permanent campsites along the river are advised to relocate their equipment to an area of higher elevation during this time. Tent campers should be prepared to leave rapidly in the event that waters rise suddenly.
References
Writer Bio
Misty Amber Brighton has been writing for over 10 years. Her writing has appeared on various websites. She is a veteran of the United States Armed Forces and attends South University.