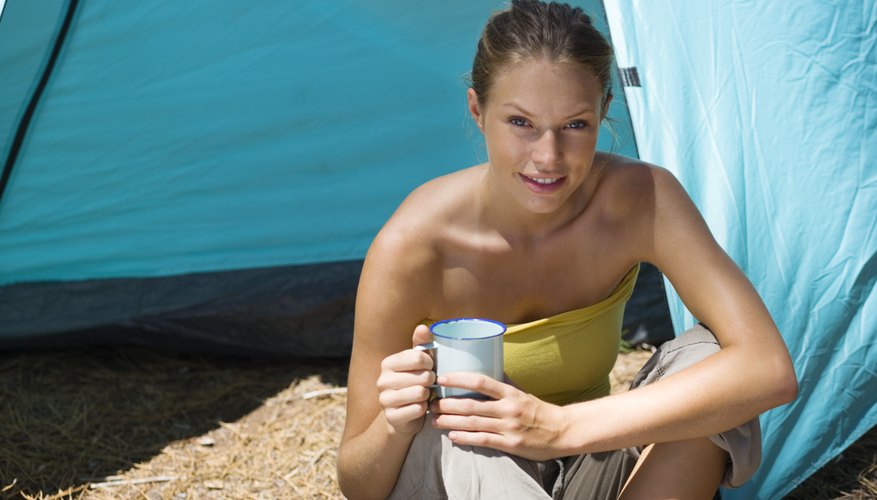 A camping trip sometimes involves more than basking in the beauty and peace of nature. Rain, thunderstorms, high winds and other surprises can intrude. The last thing you want while seeking shelter and safety inside your tent is a leak. Add a layer of protection to your tent by waterproofing it at home before venturing into the wild. With just a few ingredients, you can make your own homemade solution.
Tents
Tents come in a variety of styles, shapes and sizes, and they protect campers from wind, water and heat. Most tents are already waterproof, but they may need rejuvenation as they age. Nylon, polyester and canvas are the most common fabrics for outdoor tents. Before you treat tents for homemade waterproofing, test the homemade solution on a small patch of your tent fabric.
Waterproofing Solution
To make a waterproofing solution, you need 2 cups of linseed oil, 2 oz. of beeswax and 2 oz. of rosin. Place the beeswax and rosin in the oven and heat at to 250 degrees until they are completely melted and mixed together. Remove from the oven and stir in boiled linseed oil. Allow the solution to cool and apply three coats to the tent, one coat per day. This solution works best on canvas tents.
Application
Clean the rain fly and tent fabric to clear any dirt, debris or dust. Wipe thoroughly and make sure the tent is completely dry before applying waterproofing solution. Lay the rain fly flat and apply the waterproofing solution on all the sides and seams. Next, spray or coat the entire surface with the waterproofing solution using a brush, spray can or sponge. Turn the rain fly over and repeat the process. Apply the waterproofing solution along the inside perimeter of the tent floor and also treat the first two feet of the surrounding walls.
Tent Setup
You can help keep the tent dry by setting it up properly. Always use the rain fly over the tent as an added protection against rain and wind. Set up the rain fly by installing the guy lines and staking toward the underside of the tent at a 30- to 45-degree angle. Improper staking can cause the top of the rain fly to sag and collect water; this allows the water to leak and seep through the inside of the tent. Keep the rain fly installed tight and the guy lines taut.
References
Writer Bio
Rona Aquino began writing professionally in 2008. As an avid marathon runner and outdoor enthusiast, she writes on topics of running, fitness and outdoor recreation for various publications. Aquino holds a Bachelor of Arts in communications and English from the University of Maryland College Park.