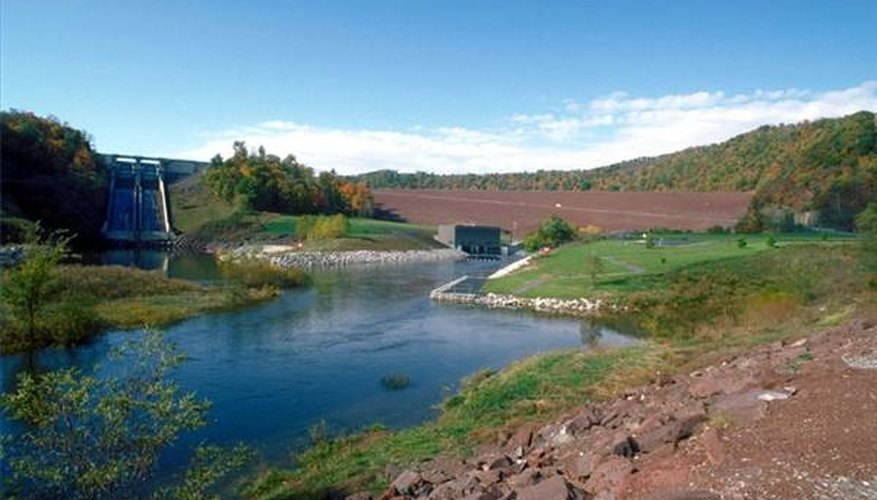 Raystown Lake, the largest man-made lake in Pennsylvania, is a recreational area in the heart of Huntingdon County. Because the U.S. Army Corps of Engineers owns the surrounding land, the area remains undeveloped, and the hills on the shores are blanketed with trees and unbridled scenery. The area was discovered by Native Americans and is sometimes known as Pennsylvania's best kept secret.
Native Americans
Native Americans discovered Sheep Rock Shelter, a large overhanging ledge on the Juniata River, which provided shelter for the people and their animals. Sheep Rock Shelter is archeologically significant and near the present-day Susquehannock Campground.
Reservoir
From 1907-1913, the Raystown Branch of the Juniata River was dammed, creating a lake in the Juniata River Valley for hydroelectric purposes. The water level was as high as 786 feet above sea level, and the reservoir began to also be used for recreation, with cottages nearby and boating opportunities available.
Excavation
In the 1960s, the U.S. Army Corps of Engineers announced plans to expand the reservoir, and Sheep Rock Shelter would be flooded. To prevent loss of Native American archeological evidence, researchers from Juniata College and the Pennsylvania State University excavated Sheep Rock Shelter, uncovering the skull and bones of woman from approximately 6,000 years ago.
Reservoir Expansion
In 1973, the U.S. Army Corps of Engineers completed the expansion project, creating an 8,300 acre lake, backing up water for over 30 miles and providing flood control, electricity and recreation. The expanded reservoir included Seven Points Marina, which was first founded in 1946 as just a small place to rent boats, and is now the largest marina in Pennsylvania.
Recreational Opportunities
The Raystown Lake area offers something for everyone. The area has boat marinas, swimming areas (lake and pool), picnic sites, scuba gear rental and activities, camp grounds, trails for hiking and plenty of fish to be caught. For ornithologists or other fans, there are a few active Bald Eagle nests in the area, and the Raystown Lake Visitor Center offers paleontology displays.
References
Writer Bio
Maryam Lebeau has a particular interest in medical ethics, law and health policy. Lebeau has written professionally since 2002, focusing on health, medicine, science, family and crafts. She holds a B.S. in nature science and mathematics from Washington and Lee University.