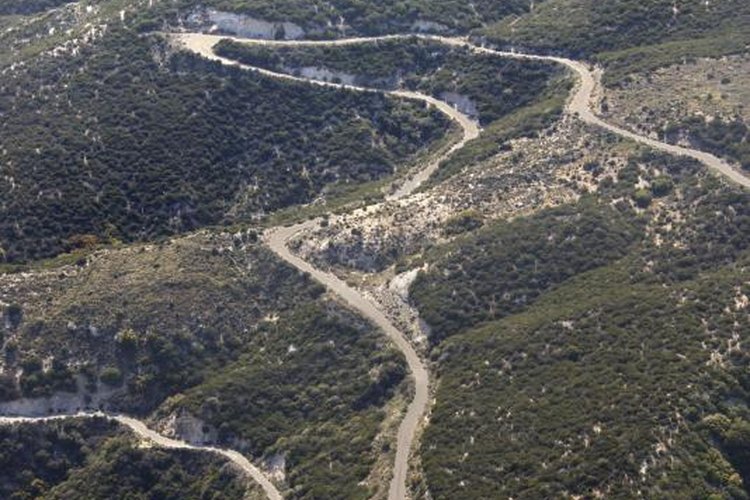 Rolling hillsides north of Claremont, California, beckon hikers to explore their folds along the Claremont Wilderness Area Loop. The moderately strenuous trail rolls 5 miles through the foothills of the San Gabriel mountains, varying in altitude from 1,800 to 3,000 feet. A parking permit, hiking shoes and plenty of water is all it takes to enjoy the views along the loop trail.
Preparing for the Hike
Most of the 5-mile loop is in open sun, and temperatures may soar to 90 degrees Fahrenheit or more during the summer. You'll be in open sun for about two hours as you hike the loop, so bring lightweight, long-sleeved clothing or sunscreen to prevent sunburn. Bring at least a half-gallon of water per person to stay hydrated, as there is no water in the park. You can bring your dog on the trail, but bring extra water and a drinking bowl if you do. Temperatures rarely drop below freezing on the trail, but watch out for icy spots in shaded areas when hiking in the early morning during the winter.
Parking Your Car
You'll need a parking permit to leave your car at the park while you hike. Residents and Claremont College students can get a permit free of charge to park in the Thompson Creek Trail parking lot. Visitors can buy an annual permit from City Hall or at the Alexander Hughes Community Center. If you're just visiting for the day, you'll find four-hour parking available at meters, found in the far north parking lot. The cost is just a few dollars and you can pay at the meter with your bank card.
Heading Out on the Trail
From the trailhead, you can choose to take the trail to the left or the right. To the left, the Burbank Mountainway ascends 1,000 feet over 2.75 miles. Going to the right, you'll ascend the same elevation over just 1.75 miles on the Cobal Canyon Mountainway. Both trails intersect with the Johnson Pasture Mountainway, forming the loop. The trails are dirt fire roads, where several people can walk abreast, but loose gravel can make footing unsure in steep places. Mile markers let you know how far you've come, and how far you've yet to go. You'll see spring wildflowers along the trail as early as February, and there are scenic overlooks with benches along the way to enjoy views of the mountains and city.
Know the Rules
Park hours change monthly, so plan your hike to give you plenty of time for the hike and any breaks you may wish to take along the way. Cars left in the lot after hours receive a parking ticket. Horses and bicyclists share the trail with hikers -- hikers must yield to the horses and bicyclists must yield to both hikers and horses. Pack out all trash and dog feces and leave all natural vegetation, rocks and other natural items behind.
Photo Credits
Ron Chapple studios/Hemera/Getty Images