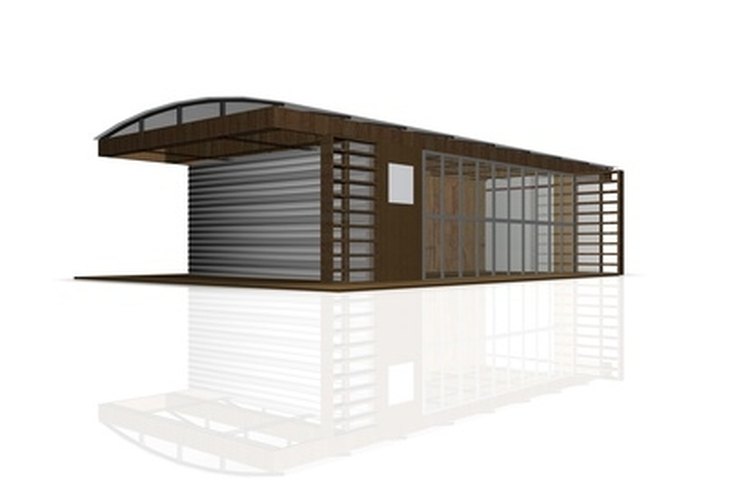 Recreational vehicle and travel-trailer owners have several different options when it comes to off-season storage of their mobile homes. Some owners may choose to leave their trailers parked in a driveway, backyard or RV park, where the trailer is exposed to the elements. Others prefer to store their travel-trailers inside of a garage. However, most travel-trailers and RVs are just too large to fit inside a standard garage.
Portable and Temporary Garages
Constructed with a steel frame and polyethylene tarp walls, portable garages come in many different shapes and sizes, small enough for a single car or small travel-trailer or large enough to accommodate up to six cars or three RVs. The advantages of a portable garage system include ease of setup, reduced cost and the ability to assemble and disassemble as needed.
Metal Storage Sheds & Garages
Metal storage sheds and garages are similar to portable garages, but they lack the ability to be easily assembled and disassembled. The structure features a steel frame and metal walls. A metal garage system can be purchased as a do-it-yourself kit, or can be assembled with the help of a local contractor. Metal garage systems are usually a less expensive option than a wooden garage, but more expensive than a portable garage.
Wooden Garages
Requiring a detailed plan and a building permit, wooden garages are the most expensive option for RV and travel-trailer storage. The majority of wooden garages require the assistance of a licensed contractor or carpenter, adding to the overall cost of the system. There are prefabricated garages available, but they are usually built for a standard car. Prefabricated wooden garages for an RV or travel-trailer generally require a special order, which also increases the cost. Wooden garages can be built in the same style as a purchaser's home and even painted in the same color scheme. For some homeowners, being able to match the garage with their home is worth the extra cost.