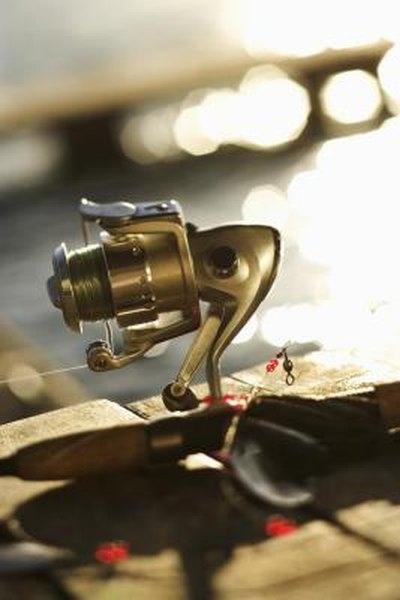 For anglers in pursuit of freshwater game fish like bass, bream and catfish, Lawrenceville presents a diverse assortment of options, from vast reservoirs to tiny local fishing holes. The Lawrenceville area is home to one of the most well-known fishing lakes in Georgia, as well as many smaller lakes where anglers may have the water all to themselves. A current Georgia fishing license is required, and you can get one through the Georgia Department of Natural Resources website, or at bait and tackle shops across the state.
In the Heart of the City
Encircled by 162-acre Rhodes Jordan Park, Lawrenceville City Lake sits in the heart of Lawrenceville, where it provides a major fishing resource for local residents and visitors alike. Lawrenceville City Lake is known mainly for its bream fishing, though you may also catch channel catfish and largemouth bass. Boats are not permitted, but you can cast a line from the shore all around the 20-acre lake. Rhodes Jordan Park is open year-round but can get busy on summer weekends, so try visiting during the middle of the week if you want to beat the crowds.
Quiet and Secluded
Less than 10 miles south of Lawrenceville, Tribble Mill Park is home to two small fishing lakes, with ample populations of largemouth bass, channel catfish, bream and crappie. The 40- and 109-acre lakes are surrounded by quiet forests and fields and are open only to non-powered craft and to boats with electric motors. The still waters are ideal for canoes and kayaks. The park includes launch facilities, and anglers without a boat can cast a line from shore or from the fishing docks that are provided at both lakes.
Hidden in the Forest
Fort Yargo State Park is about 15 miles east of Lawrenceville, and this 1,800-acre park is made up of mostly undeveloped forest around the shore of Fort Yargo Lake. Anglers can catch bass, bream, catfish and carp from the 260-acre lake, which includes boat launch facilities, a fishing pier and lots of open shoreline. Boat motors are restricted to 10 horsepower or less, and you can rent canoes, kayaks and johnboats from the park during the summer months. Fort Yargo State Park also includes a swimming beach, lakeside picnic area, several miles of secluded hiking trails and more than 50 campsites for tents and RVs.
Miles of Open Water
With 38,000 acres of water, Lake Lanier is by far the largest lake in the Lawrenceville area. About 15 miles north of Lawrenceville, the lake has nearly unlimited fishing potential, with healthy populations of walleye, crappie, bream, channel catfish, carp and largemouth, spotted and striped bass. Dozens of boat launches, marinas, fishing access sites and public parks provide access, including Don Carter State Park, River Forks Park and the Shoal Creek Campground. The lake has a reputation for great fishing, but the downside of this is extremely high fishing pressure from local anglers, which can make the fish wary. Springtime is generally the best time to fish Lake Lanier.
References
Writer Bio
When Richard Corrigan isn't writing about the outdoors, he's probably outside experiencing them firsthand. Since starting out as a writer in 2009, he has written for USA Today, the National Parks Foundation and LIVESTRONG.com, among many others, and enjoys combining his love of writing with his passion for hiking, biking, camping and fishing.