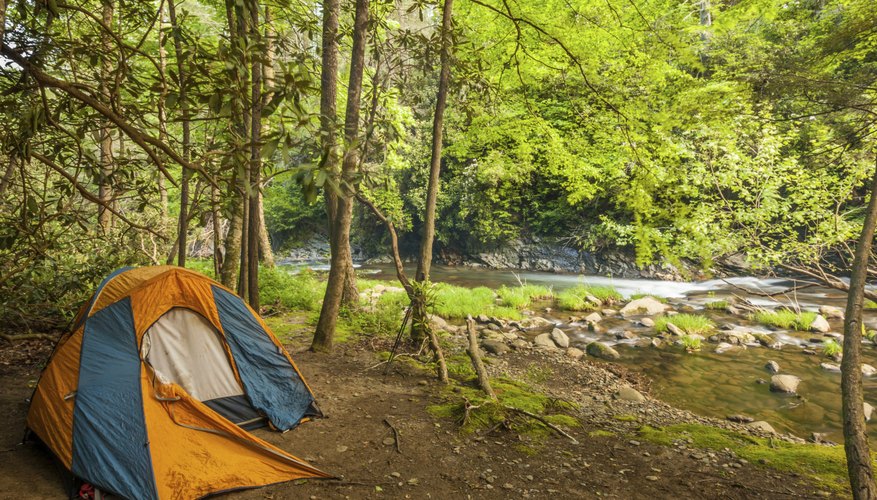 It is hard to sit still at a U.S. Army Corps of Engineers campground. Every Corps of Engineers, or COE, development in Georgia offers enough variety to keep you busy for days. You can swim, fish, hike, bike, water-ski or organize less strenuous activities, like basketball.
All but one of the COE developments are in the northern half of the state. Each development has multiple recreation areas, trails and campgrounds, but not all are managed by the COE.
East Georgia
J. Strom Thurmond Lake sprawls along the Georgia-South Carolina border just north of Augusta. Lake Hartwell, also on the border, has nine COE campgrounds and 15 day-use areas. RVers can reserve campsites with water and electrical hookups at either park. Some sites are pull-through. Non-electric and primitive tent campsites are available at all but one development in Georgia.
The largest COE lake east of the Mississippi River, Thurmond Lake has 1,200 miles of shorline. None of the campgrounds have beaches. Four Lake Hartwell campgrounds have beaches. Boat ramps are available at most sites.
Fish from a boat or the bank for largemouth, hybrid and striped bass, bream, crappie and catfish. Hunt in season with proper permits. Follow walking trails alongside the dams and you may see deer, turkey, fox, opossums and snakes. Hiking and biking trails managed by other entities are available for COE campers to use, though a fee may be charged at some sites.
North Georgia
Named for the famous Georgia poet, Lake Sidney Lanier is a popular summer destination less than an hour northeast of Atlanta. According to the Corps of Engineers website, the lake attracts more than 7.5 million visitors per year. The area has more than 80 recreation sites, with nearly a dozen tent and RV sites, some with water and electrical hookups, as well as playgrounds and boat ramps.
Lake Allatoona is about 30 minutes northwest of Atlanta and sees more than 6 million visitors each year. Of the 41 recreation sites, seven campgrounds accommodate RVs with water and electrical hookups and dump stations, restrooms and laundry facilities, playgrounds and boat ramps. Primitive campsites are available. Go swimming in the lake or hike and bike the myriad trails managed by state park and private entities.
Carter's Lake, at the base of the Blue Ridge Mountains, has two campgrounds with electrical and water hookups and two non-electric campgrounds. Harris Branch campground has a beach. Walk the interpretive trails at Rereg Dam, Northbank and Woodring Day Use areas, or fish for spotted, hybrid and striped bass in the lake.
West Georgia
The fishing is good at West Point Lake near LaGrange, which teems with several species of bass and catfish, plus crappie and bream. With more than 40 square miles of lake, you can find a fishing hole next to the bank or take a boat out from one of the public fishing piers. The area has four campgrounds with water and electrical hookups, dump stations, playgrounds and restroom facilities. Several of the sites and four campgrounds have hiking and biking trails.
Southwest Georgia
Lake Walter F. George on the Chattahoochee River, which forms the border between Georgia and Alabama, has four COE campgrounds. The area, also known as Lake Eufaula, is a magnet for visitors wishing to fish, water-ski, swim or golf. Choose a primitive tent campsite or a site with water and electrical hookups. Campgrounds have playgrounds, showers, swimming and boat ramps. Fish for bream, crappie, catfish and bass in the 85-mile-long lake, or try jet- and water-skiing. Hike and bike miles of trails rated easy to moderate that wind along the lakes and river and through woodlands filled with wildlife. Play golf on a championship course at Bagby State Park or Lakepoint Resort.
Permits
You must have a valid state license to hunt and fish. Permits are available at state park offices and at many bait and tackle shops and firearms shops. Anyone over the age of 16 must have a permit, but special permits are offered for youngsters, senior citizens and military personnel.
References
Resources
Writer Bio
Audrey Lynn has been a journalist and writer since 1974. She edited a weekly home-and-garden tabloid for her hometown newspaper and has regularly contributed to weekly and daily newspapers, as well as "Law and Order" magazine. A Hambidge Fellow, Lynn studied English at Columbus State University.