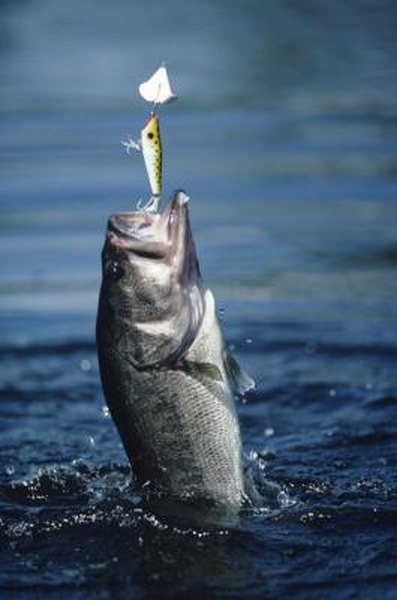 Spanning more than 20,000 acres, Lake Conroe is one of the best largemouth bass lakes in Texas, but the fishing at this man-made reservoir doesn't end with bass. Catfish, bluegill and crappie are all abundant at Lake Conroe, and hundreds of prime fishing spots all around the lake have the potential to send anglers home with a hefty catch.
Best Bets for Bass
Aquatic vegetation is fairly sparse in Lake Conroe, but if you can find weed beds, chances are you'll find bass nearby. Vegetation is most common around points and other near-shore areas in the northern half of the reservoir. The southern shoreline is dominated by docks and other man-made structures, which can also harbor big bass. Springtime anglers can find success casting jigs, soft plastic lures and topwaters to these shallow areas, but bass often move toward deeper water as the water warms, and you can find fish during the summer months around the rocky drop-offs that link deep habitats to shallow hunting grounds. Bass in deeper waters often strike shad-imitating lures.
Catfish Hot Spots
Channel catfish are the most common game fish in Lake Conroe, and you can find them in areas throughout the lake. Summer provides prime catfish conditions -- though spring and fall can also yield substantial catches -- and many local anglers use smelly, natural baits like cut shad, chicken livers and prepared dough baits. During the day, catfish usually hang out in deep water, but they approach shallow flats and coves to hunt at nighttime. Parks with shore access like the Cagle Recreation Area are often productive, and boaters can often find big cats in the deep water near the dam and near drop-offs along the main river channel.
Prime Panfish Waters
Crappie and bluegill are the two main panfish species in Lake Conroe. Bluegill are the most common and the easiest to catch, and you can usually catch them around shallow weed beds and other structures on live night crawlers and red worms. The biggest bluegill often hang out in slightly deeper water, but with shallow cover nearby. For crappie, shallow brush piles are the best bets, especially during the spring spawning season. The Texas Parks and Wildlife Department has placed fish-attracting brush piles at several key points around the southern part of the reservoir, and a map showing their location is available through their website. Try casting live minnows and small minnow-imitating jigs around these areas.
What to Know
Boat launch facilities are available at several locations around Lake Conroe, including Lakeview Marina and the FM 830 Ramp at the south end, and Cagle Recreation Area and Stow-A-Way Marina at the north end. A current Texas fishing license is required to fish the lake, and you can purchase a license at most bait shops and sporting goods stores across the state. The Texas Parks and Wildlife Department also sells licenses directly through their website. Statewide fishing seasons and regulations are in effect.
References
Writer Bio
When Richard Corrigan isn't writing about the outdoors, he's probably outside experiencing them firsthand. Since starting out as a writer in 2009, he has written for USA Today, the National Parks Foundation and LIVESTRONG.com, among many others, and enjoys combining his love of writing with his passion for hiking, biking, camping and fishing.