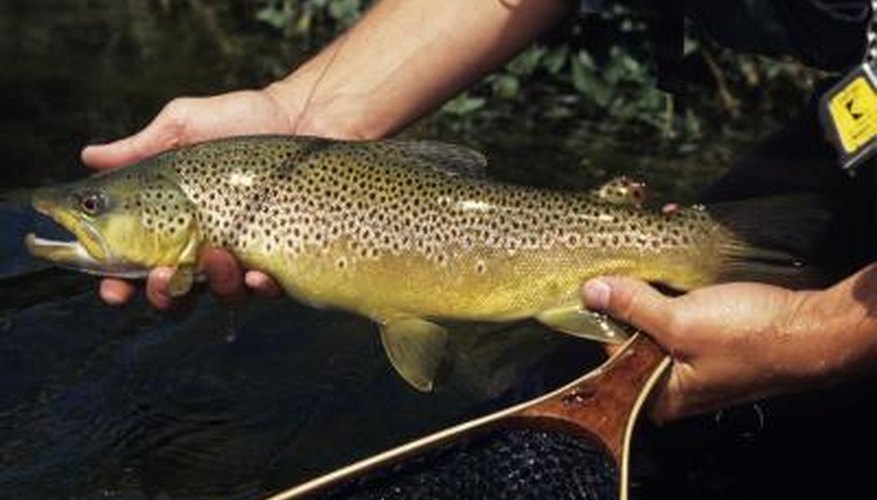 Carbon County is nestled among the ridges and valleys of the Appalachian Mountains, a rugged setting that makes the county prime territory for outdoor recreation, from paddling on the Lehigh River to backpacking on the Appalachian Trail. Carbon County has just as much to offer fishermen, including deep reservoirs and trickling streams. Anglers with a current Pennsylvania fishing license can catch bass, trout, catfish and a host of other game fish from the county's rich waters.
Lakes and Streams of Hickory Run
Spanning more than 15,000 acres in the northern corner of Carbon County, Hickory Run State Park alone has enough fishing options to keep anglers busy for a long time. Several trout streams crisscross the park, including Mud Run, Hickory Run and Sand Spring Run; and the Pennsylvania Fish and Boat Commission stocks brook and brown trout in several of these streams during spring and fall. A few special regulations are in place. Anglers on Mud Run may use artificial lures only, and the lower 2.9 miles of Hickory Run are strictly catch and release. Anglers looking for warm-water game fish like largemouth bass and bluegill can find them in several lakes and ponds throughout the park, including Hickory Run Lake, Sand Springs Lake and CCC Pond, the latter of which has a wheelchair-accessible fishing pier.
Fly-Fishing on the Lehigh River
The Lehigh River flows south through the entirety of Carbon County, swinging briefly through Hickory Run State Park and carving out a deep chasm known as the Lehigh Gorge. The river provides excellent fishing for brook, brown and rainbow trout -- particularly the section from the Francis E. Walter Dam downstream through White Haven. Fly-fishing around deep pools, shady banks and current breaks can be very effective in spring and early summer. Look for flies that imitate local insect hatches like black stoneflies and caddis. Warm-water species like walleye, smallmouth bass and catfish are available as well. You can access the river through Hickory Run and Lehigh Gorge state parks and from several local parks, state access sites and bridge crossings all along its course.
Wide Open Water at Beltzville Lake
At 949 acres, Beltzville Lake is the largest lake in Carbon County. A man-made reservoir along Pohopoco Creek, the lake is deep and presents a wide range of fish-attracting habitat, from deep drop-offs and rocky shores to shallow weed beds and fallen timber. This diversity allows an equally varied number of game fish to thrive in the lake, including largemouth and smallmouth bass, northern pike, walleye, muskellunge, perch, trout and striped bass. The lake is open to boats of all kinds -- you can launch at Beltzville State Park -- but the quiet shoreline is equally suitable for canoes and kayaks. Shore anglers can find several access sites along Pohopoco Drive, which parallels the lake's northern shore. Beltzville Lake is a local ice fishing hot spot, particularly for pike and panfish, and ice fishermen are a common sight when the ice reaches about 4 inches thick.
Big Bass at Mauch Chunk Lake
If you're looking for big bass, look no further than Mauch Chunk Lake. This 345-acre lake west of Lehighton is managed under the Pennsylvania Fish and Boat Commission's Big Bass Program, which places special restrictions on bass fishing to enhance their numbers. Bass fishing on Mauch Chunk Lake is strictly catch and release from April 12 through June 13, and anglers are permitted to keep four fish per day, with a minimum length of 15 inches throughout the rest of the year. Mauch Chunk Lake Park provides ample open shoreline for fishing, along with two boat ramps and a wheelchair-accessible fishing pier. Boats with gas-powered motors are not permitted on the lake, but its quiet waters are perfect for electric motors and non-powered craft. Boat rentals, bait and tackle are available at Mauch Chunk Lake Park.
References
Writer Bio
When Richard Corrigan isn't writing about the outdoors, he's probably outside experiencing them firsthand. Since starting out as a writer in 2009, he has written for USA Today, the National Parks Foundation and LIVESTRONG.com, among many others, and enjoys combining his love of writing with his passion for hiking, biking, camping and fishing.