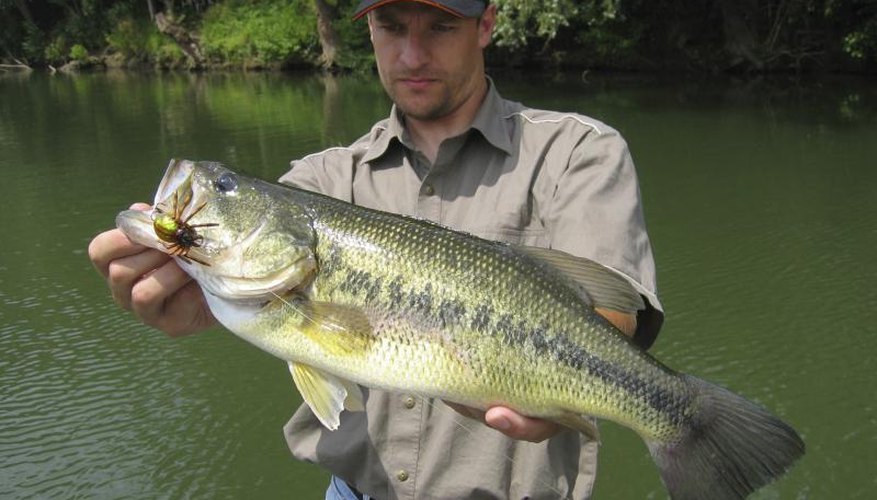 If you're looking to fish in or near the Fremont area of Northwest Ohio, the Sandusky and Maumee rivers offer excellent fishing opportunities. The Maumee River is the more expansive of the two, with a longer stretch suitable for fishing. The Sandusky River is smaller and limited to downtown Fremont. The most popular time to fish in this area is in the spring, when white bass and walleye are abundant.
Walleye Run
The Sandusky and Maumee rivers offer year-round fresh water game-fishing opportunities and are popularly known for the walleye run -- an annual tradition. The walleye make a run up the river in spring, from about mid-March to mid-April. Peak migration occurs when the temperatures reach 40 to 50 degrees, which usually occurs during the first week of April. Recommended Sandusky fishing spots in Fremont are from Brady's Island to Rodger Young Park. If you plan to fish Maumee, the top areas are from Orleans Park in Perrysburg, upstream to the end of Jerome Road in Lucas County.
White Bass Run
Thousands of fisherman from the region descend upon the Sandusky and Maumee rivers for the annual white bass run. Following the walleye run, the white bass make a run up the river in late April, with peak migration occurring in mid-May. White bass are found in the river year-round, but are particularly abundant in the spring. Excellent fishing areas in the Maumee River are in the White Street Landing and Jerome Road area and the best Sandusky spots are between the State Street and Hays Avenue bridges.
Catching Fish
White bass are typically easy to catch, especially during the seasonal run. You'll have success catching white bass with traditional lures and live baits such as spinner baits and jigs tipped with minnow. Some people use small boats, but most anglers wade. During the run, you'll likely find yourself elbow-to-elbow with other anglers. If you're looking to catch some walleye, you'll likely have the most success with a brightly colored Carolina rigged twister tail. Try an 18 to 14-inch leader a weight of about 1/4- to 5/8-ounce.
Other Species
You don't have to go in spring to catch fish in Fremont. Good fishing occurs in other months as well. In particular, smallmouth bass begin spawning in early June, with the best spot being under the Tindall Bridge in the ripple pools. July and August are good months for big channel catfishing. Good spots are along Route 53 around the river islands. Fish from the piers in Sandusky Bay, Port Clinton and Camp Perry in September and October and you'll hook yellow perch.
References
Writer Bio
Ainsley Whitley is a contributing writer for various branded properties that together attract more than 280 million readers seeking influential content. Whitley's articles have appeared in various print and online magazines, including "GQ," "Details," "Southern Living" and "Cooking Light."