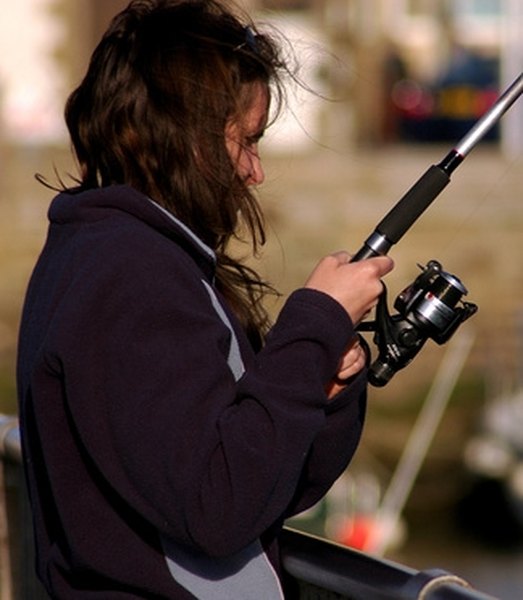 If you will be visiting the Pocono Lake Region and like to fish, stop by Lake Wallenpaupack, the third-largest man-made lake in Pennsylvania. The 5,700-acre lake is home to a large variety of fish, including popular sport fish such as walleye, small-mouth bass, large-mouth bass, striped bass, blue gill, pickerel, muskellunge, yellow perch and trout. In 2009, the state's largest brown trout was caught in Lake Wallenpaupack, which is also known as the Pack.
Learn about the fish species in Lake Wallenpaupack and decide which ones you are interested in catching. Once you decide whether you want to go after walleye or trout, for instance, bring the right rods, reels and bait.
Ask employees at local bait shops whether they know of any good spots on the Pack for the type of fishing you are planning. You will probably receive vague information, because fishermen don't like to give away their favorite fishing sites, but it can be a start. Two areas of the lake that have been mentioned by fishermen as good spots to try are Martin's Cove and the area around Caffrey Ramp.
Study the Fish Habitat Improvement Plan map, which shows the location of fish habitat structures that have been placed in Lake Wallenpaupack by the Pennsylvania Fish and Boat Commission.
Hire a guide familiar with the Pack. A local guide familiar with the lake can help you find prime fishing spots and save you lots of time and trouble. He can also recommend the best types of bait to use for the species you are trying to catch.
Fish in the spring and fall for small-mouth bass for best results. During the spring, when the small-mouth bass are moving into the shallower waters to spawn, use spinner baits and crank baits. In the summer, the fish retreat to the depths of the lake to cooler water, so fishing in the early morning or at night is best. In the fall, small-mouth are trying to fatten up for the winter and will be searching for food.
Fish in the early evening or morning, before and after the lake becomes crowded with other types of recreational users such as boaters.
Use a boat with a motor for best results if you decide to fish on the water. The Pack is a large lake, and a boat with a motor will help you move from spot to spot.