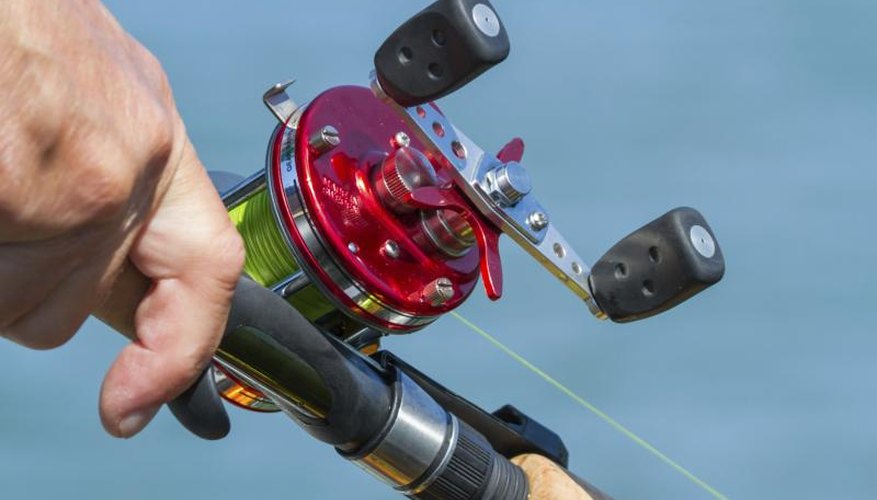 Two halibut species make their home in the waters of coastal California, providing year-round angling opportunities. Valued as table fare for their mild flavor, halibut are also hard-fighting and can be challenging to catch. Pacific halibut are the less common species, inhabiting waters along the northern California coast and reaching sizes in excess of 300 pounds. California halibut are much more common, residing all along the coast and tipping the scales at a relatively svelte 70 pounds.
Identification
Halibut are flatfish, belonging to the same family as flounder. Halibut are typically brown on one side and white on the other. Like flounder, halibut have evolved with both eyes on one side of the head, allowing them to see clearly when they lie flat on the ocean floor. The eyes of Pacific halibut always appear on the right side of the head, while California halibut may be either right- or left-eyed. Pacific halibut have a diamond-like shape, while California halibut are more rounded. You can also tell halibut apart by looking at the mouth. On California halibut, the mouth extends past the eye, while the mouth ends forward of the eye on Pacific halibut.
Timing and Location
Pacific halibut inhabit deep water, and are seldom caught in waters less than 20 feet deep. Only during the winter spawning season do they migrate to shallower areas, but fishing for Pacific halibut is closed during at this time of year. California halibut are much more common in shallow water, and many anglers catch them from piers, jetties and beaches as well as boats. The San Francisco Bay is a productive area for California halibut. Spring offers the best halibut fishing in Southern California, while summer and fall are typically better along the central and northern portions of the coast. Both halibut species share a preference for sandy habitat, and they are seldom caught in rocky areas.
Fishing Tips and Tactics
Keeping your bait close to the bottom is the key to halibut fishing. Halibut lie flat on the ocean floor, using their flat shape and natural camouflage to ambush unsuspecting prey. When available, squid are often the most effective live bait, and bait fish like 6-inch mackerel and smelt also work. A 6- to 7-foot deep sea fishing rod spooled with 20- to 30-pound line is standard for California halibut fishing. Use a smelled octopus hook for the bait, and have inline sinkers in various weights handy to keep your bait close to the bottom in various tides and conditions. Many anglers also use artificial lures, including spoons and scented soft plastic baits that mimic native bait fish.
Know Before You Go
For the 2014 season, fishing for California halibut is open year round, with a minimum size of 22 inches. You may keep up to five fish each day in waters south of Point Sur in Monterey County, or three fish per day in waters north of of Point Sur. Fishing for Pacific halibut is permitted only during the months of May, June, July, September and October. The daily limit is one Pacific halibut, with no size restrictions. Regulations are subject to change, and up-to-date limits are published by the California Department of Fish and Wildlife. A California Fishing License is required, and you can purchase one through the Department of Fish and Wildlife website, or at most bait shops across the state.
References
Writer Bio
When Richard Corrigan isn't writing about the outdoors, he's probably outside experiencing them firsthand. Since starting out as a writer in 2009, he has written for USA Today, the National Parks Foundation and LIVESTRONG.com, among many others, and enjoys combining his love of writing with his passion for hiking, biking, camping and fishing.