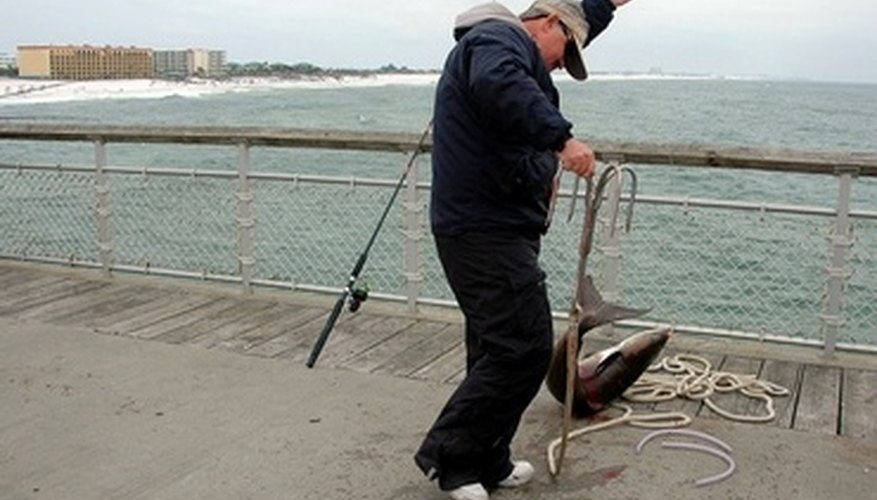 Florida may be a fishing paradise, but if you're thinking about dropping a line without dropping some cash for a fishing license, think again. Fishing without a license, whether in fresh water or salt water, is considered a violation to Florida Statutes governing fish and wildlife conservation. It carries a fine and potential jail time. A 2006 change to the statutes toughened penalties for repeat offenders.
Fines
Fishing in Florida without a license is a level one violation under Section 379.354 of the Florida statutes and considered a noncriminal infraction. Level one violations involving fishing license requirements carry a civil penalty equal to the cost of the license plus $50. However, if you were previously cited for fishing without a license in Florida within the past 36 months, your fine increases to the cost of the license plus $100.
Citation and Court Appearance
If caught fishing without a license, you will be issued a citation and told to appear before the county clerk. You must sign and accept the citation from the issuing officer. You can pay your fine within 30 days or attend your hearing. By paying the fine, you admit to the level one violation and waive your right to a hearing. Your admission of guilt can't be used in other proceedings except to determine an appropriate fine in the case of a subsequent violation. If you appear before the county court, you waive the limitations on civil penalties described in the statutes. The county court decides your guilt and any applicable fine. Fines are not be less than $50 for a first-time violation nor more than $500 for a subsequent violation. You can appeal the decision to the circuit court. If you can produce a license that was valid at the time you received your citation, you pay only a $10 court fee.
Further Penalties
If you refuse the citation, fail to pay your fine or fail to appear before a county court if required, your violation is escalated to a second-degree misdemeanor. This class of misdemeanor carries a penalty of up to 60 days in jail and an additional $500 fine.
License Exemptions
There are certain exemptions for a fresh or salt water fishing license. Children under 16 years of age or Florida residents age 65 or older do not need a license. You also do not need a license if you are fishing on your homestead or the homestead of a spouse or child, or if you are a minor child fishing on the homestead of a parent. Florida residents who are totally and permanently disabled do not need a license. Some exemptions also apply to military personnel. If you are fishing in your home county, you may not need a license if you are using only live or natural bait, avoid fish management areas and do not use a rod-and-reel mechanism. A number of additional exemptions apply specifically to fresh water or salt water fishing.
References
Writer Bio
Lori Weaver is an experienced online writer and editor. She frequently contributes to a number of sites and covers a range of subject areas, including automotive trends, finance, marketing, sustainable living, renewable energy, healthcare, agriculture, real estate and other topics. She holds a degree in journalism from the University of Wisconsin, Madison.