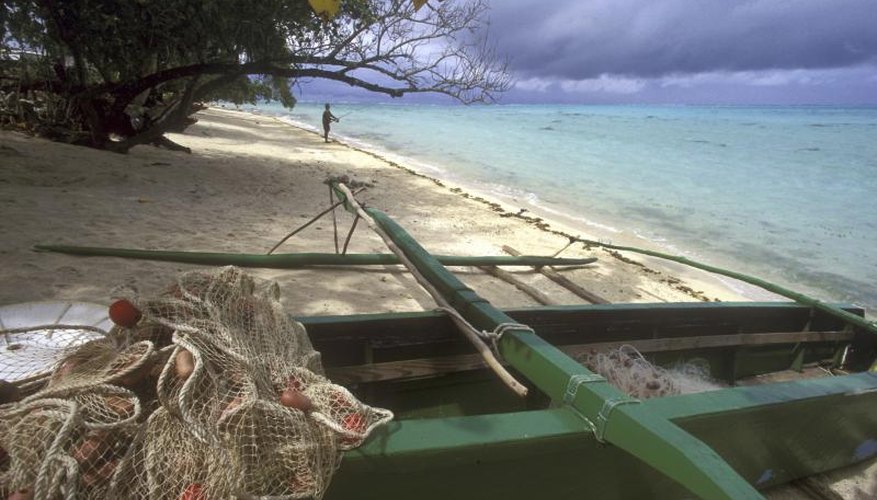 A long, narrow barrier island that extends into the Gulf of Mexico from the mouth of Mobile Bay, Dauphin Island offers a variety of fishing opportunities. The deep offshore waters near the Alabama coast are known for their excellent deep sea fishing, but you don't need a boat to catch fish on Dauphin Island. Redfish, spotted trout and several other species are available to shore anglers, and the island provides plenty of ways to access the water.
Fishing Spots
The western half of Dauphin Island is completely undeveloped, with several miles of beaches open to surf fishing and wading. To get there, take Bienville Boulevard west along the length of the island. Parking is available at the end of the boulevard, but the western half of the island past the parking lot is accessible only on foot or by boat. You also can fish at several spots on the more developed eastern end of the island, including several jetties, a free pier at Billy Goat Hole and lengthy sections of open beach. The 850-foot pier known as the Dauphin Island Fishing Pier is no longer available due to the migration of nearby Pelican Island, which placed the pier on dry land.
Tips and Tactics
A variety of tactics are effective for fishing on Dauphin Island. You can cast lures like spoons or floating plugs into the surf, or try live baits like shrimp, squid or crabs on bottom rigs. Common catches include speckled trout, flounder, Atlantic croaker, redfish, cobia and ladyfish. Prime fishing conditions are available from spring into summer, but each season offers fishing opportunities. The best catches often come early and late in the day.
References
Writer Bio
When Richard Corrigan isn't writing about the outdoors, he's probably outside experiencing them firsthand. Since starting out as a writer in 2009, he has written for USA Today, the National Parks Foundation and LIVESTRONG.com, among many others, and enjoys combining his love of writing with his passion for hiking, biking, camping and fishing.