•••
Gregory Ritchie/iStock/Getty Images
There are three types of motorized RVs: Class A, Class B and Class C. The differences between a Class B and Class C motorhome are related mostly to size. The bigger a motorhome, the more it costs to buy and fuel. Class B motorhomes tend to be smaller and more economical, while Class C motorhomes allow for more space and roomier living.
Class B Features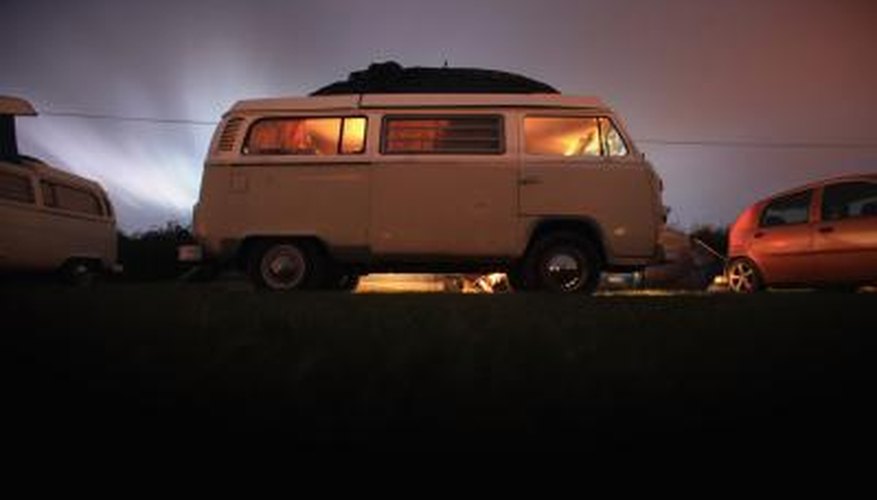 •••
Gregory Ritchie/iStock/Getty Images
Class B motorhomes are often called camper vans or van conversions. They are built on top of a van chassis and tend to look like a van, except they typically have a raised roof to allow passengers to stand fully upright. Class B motorhomes are smaller than Class A and C motorhomes. While they often have a bathroom and kitchen, they can be tiny. The shower is sometimes hung directly over a stainless-steel toilet to save on space. The bigger and more luxurious Class B motorhomes can have slide-outs for more space. Unlike the Class C motorhome, they do not have a bed or entertainment center in a cabover, which is the area over the driver's and passenger's seats.
Class C Features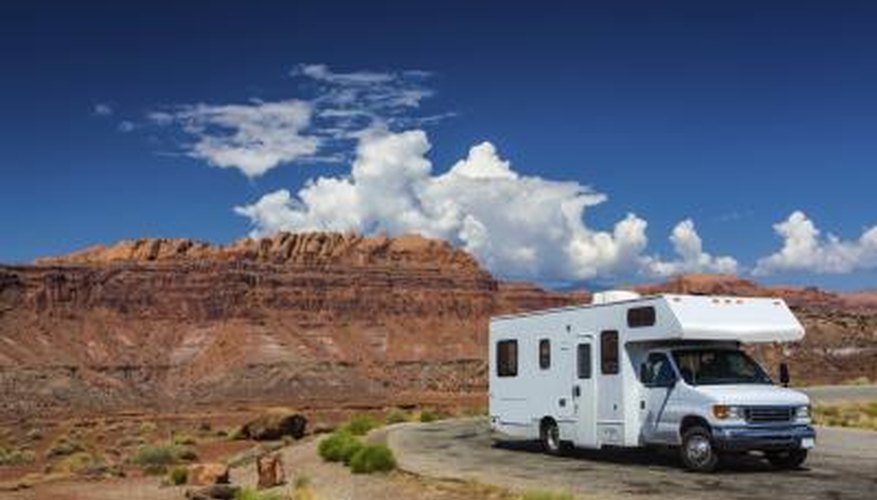 •••
Gregory Ritchie/iStock/Getty Images
The smaller Class C motorhomes are built on a cutaway van chassis, while the bigger Class C motorhomes, sometimes called a Class C+, are built on a Chevrolet, Ford, International or Freightliner truck chassis. A Class C motorhome is bigger than a Class B, but smaller than a Class A. It can generally be distinguished from a Class B motorhome by the overcab sleeping area. Some bigger Class C motorhomes have a separate bedroom, and in this case, the overcab is often made into an entertainment system.
Costs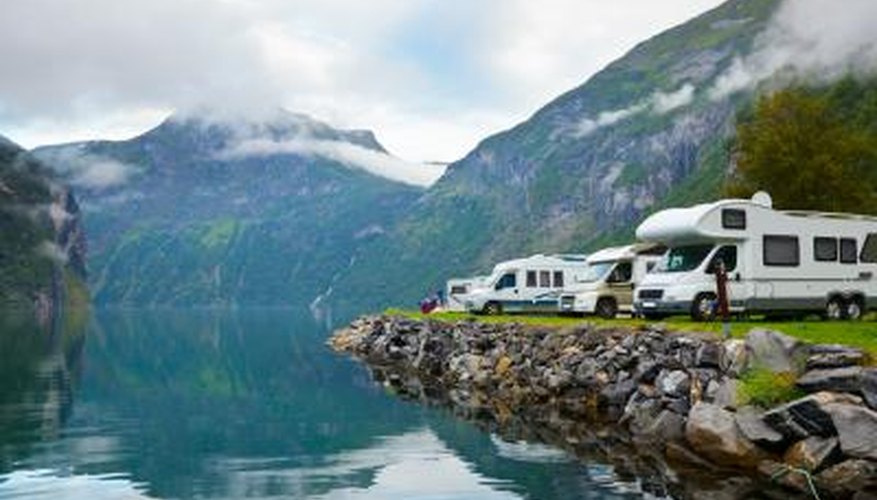 •••
Gregory Ritchie/iStock/Getty Images
Class B motorhomes, as the smallest motorized RV, start around $50,000 (2010 prices) and the luxury models can go over $130,000. Class C motorhomes start around $55,000 and can go up to $450,000. The starting price should be adjusted for amenities, which can add $10,000 to the starting price. The other factor that affects long-term costs is miles per gallon. A Class B averages 10 to 20 miles per gallon, depending on length and weight, while a Class C motorhome gets 5 to 10 miles per gallon.
Pros of Class B and C Motorhomes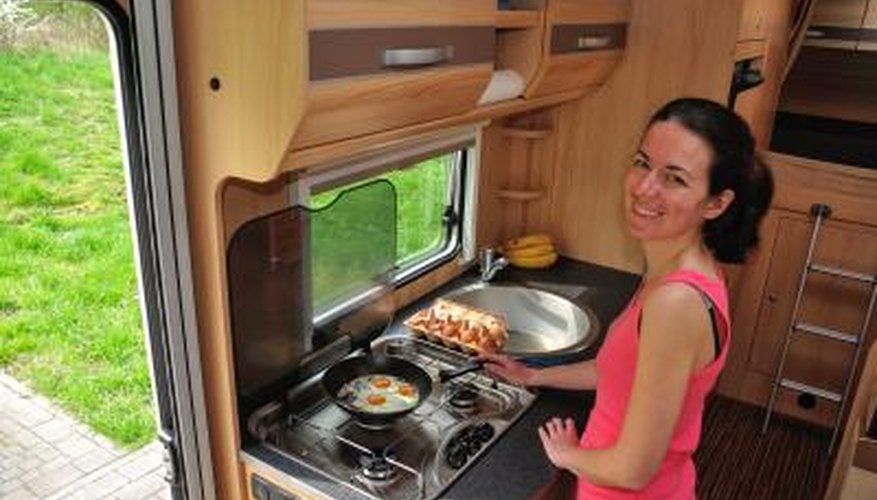 •••
Gregory Ritchie/iStock/Getty Images
A Class B motorhome handles just like a mini-van or full-size van, so it's easy to drive. It gets better gas mileage than the Class C motorhome. It can easily fit in a regular-sized parking spot or a driveway. Because it is basically a van, you don't need a towed vehicle when running local errands.
Class C motorhomes often offer an overhead sleeping area, which gives extra room for a living area with kitchen, a bigger bathroom and often a separate bedroom. Because of this, many Class C motorhomes can sleep six or more people, so it's ideal for a bigger family. It can generally tow a separate vehicle for driving locally, so you don't need to unhook from the campsite every time you leave the campground for errands or sight-seeing.
Cons of Class Bs and Class Cs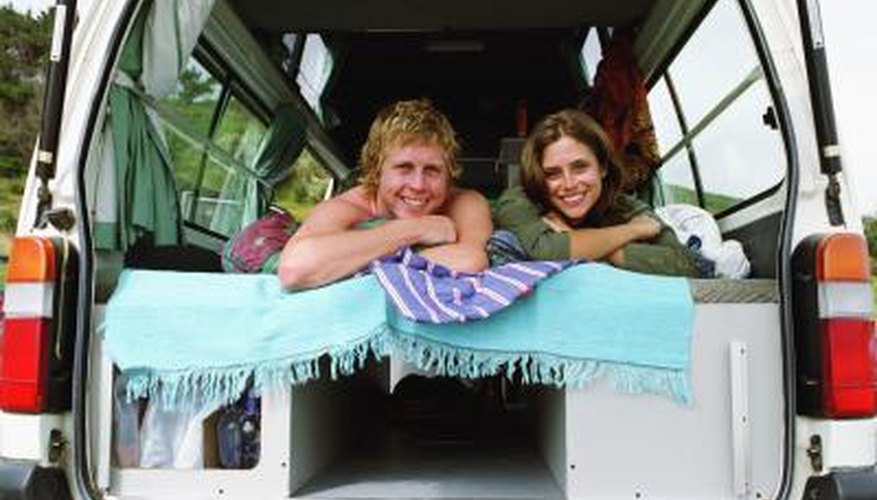 •••
Gregory Ritchie/iStock/Getty Images
Class B motorhomes can be very small and cramped. Usually they sleep only two or three people, and there is not much storage space. When running errands or sight-seeing, you have to unhook the campground hook-ups every time you leave the campsite.
Class C motorhomes get low gas mileage. Without a separate towed vehicle, unhooking from the campground hook-ups can be inconvenient. They are more awkward to maneuver than Class B motorhomes, and the longer ones can be difficult to park in driveways or small parking spaces.
References
Writer Bio
Jennifer Collins has been writing both fiction and non-fiction since 2001. She's written several pop-culture essays published in "Perfectly Plum" and "Ardeur." Before her writing career, Collins was a pianist and teacher who did her undergraduate and graduate studies at the Cleveland Institute of Music, majoring in piano performance.