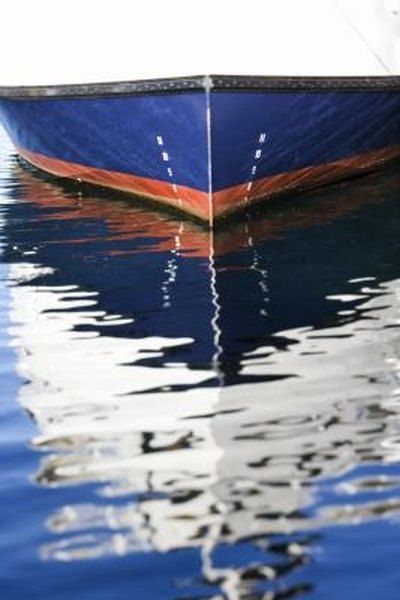 Produced by Bombardier Recreational Products of Canada, the first Sea-Doo personal watercraft -- or PWC -- appeared in 1968. In 1995, the company released the Sea-Doo SPX, an updated version of the 1994 model. Knowing the exact specifications of your personal watercraft can make repairs, part replacement, and maintenance as easy and enjoyable as riding the waves.
Dimensions and Capacities
The 1995 Sea-Doo SPX is 100 inches in length and 41.3 inches in width, and stands 36.2 inches tall. When dry, it weighs 397 lbs. Its fuel tank can carry 9 gallons of fuel, its oil injection reservoir can contain 1.2 gallons of oil, and its impeller shaft reservoir can contain 2.2 oz. The SPX can carry a maximum of two passengers, with a total load limit of 352 lbs.
Engine
The Sea-Doo SPX uses a water-cooled, water-injected Bombardier-Rotax 657X engine with a standard bore size of 3.071 inches and a corrected compression ratio of 6.4:1. The engine has two cylinders, uses a rotary valve induction type and is started electrically. The 657X has a stroke of 68 mm and a displacement of 650 mm. The oil injection pump is gear-driven and uses Bombardier-Rotax injection oil.
Electrical and Carburetion
The SPX has a magneto generator output of 160 watts at 6,000 RPM or 4.0 amps at 2,000 RPM. It uses a CDI ignition system with NGK BR8ES spark plugs with a 0.02-inch gap. The craft's two carburetors are Mikuni BN-37I and it uses regular unleaded gasoline with a minimum octane number of 87. With a wide-open throttle, it will consume, at maximum, 8.4 gallons of fuel per hour, and can cruise at full throttle for 50 minutes from the fuel tank and an additional 10 minutes from the reserve.
Propulsion and Cooling
The SPX uses the Bombardier Formula as its propulsion system with a axial-flow, single-stage jet pump, that can generate 30.8 horsepower. The impeller rotates counterclockwise. Transmission is direct drive, and coupling is done with crown splines. The propulsion system uses SAE 75W90 oil and requires a minimum water level of 35 inches. The craft is cooled by an open circuit -- direct flow from the jet propulsion unit.
Materials
The hull of the SPX is a composite. The inlet grate, exhaust muffler and impeller housing, venturi and nozzle are aluminum. The air intake silencer is thermoplastic, and the flame arrester is a multi-layer wire screen. The steering padding is done with thermoplastic elastomer with polystyrene foam. Both the fuel tank and the oil injection reservoir are made of polyethylene. The watercraft's seat is made of polyurethane foam.
References
Writer Bio
Brandon James has been writing short stories and novels since 2004. He's been published on Team Warfare League and the No Currency blog. In 2009, he received his Bachelor of Arts degree in English from the University of Michigan.