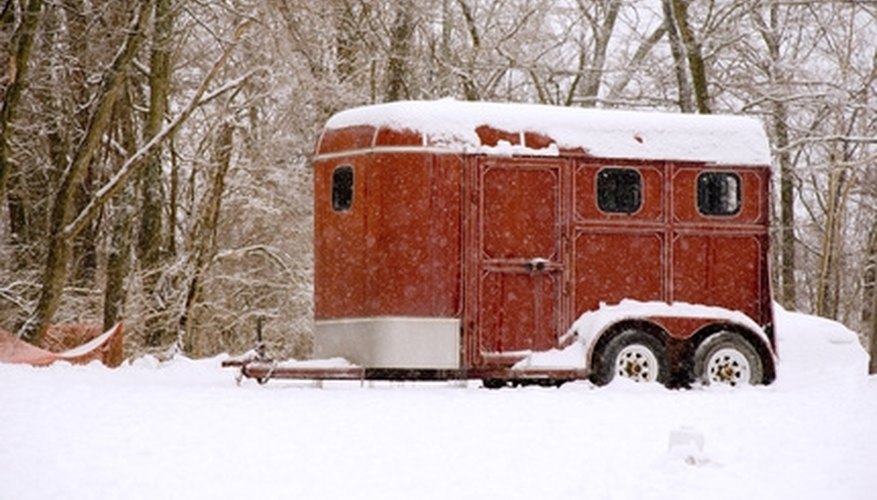 Camper trailers are expensive, but sometimes a used horse trailer is not. Horse trailers can be converted into camper trailers very economically if you do it yourself. Some people like the idea of re-use, some like the economy of it, and some prefer the lighter, narrower load that a converted horse trailer provides. Do-it-yourself conversion, while economical, requires carpentry, plumbing and electrical wiring. These building skills are required to complete the job. Also, this is a project must meet code requirements for living quarters. Schedule your inspections at each phase, so you won't spend extra time and money on do-overs.
Items you will need
Extension Cords

Generator

Air Compressor

Framing Nailer

Circular Saw

8-foot ladder

Electric drill

Reciprocating saw

Tape measure

Speed square

Chalk line

Chalk line clamp

Wood chisel

Carpenter's pencil

Framing square

Utility knife

Framing hammer

Cat's paw

Propane torch

Tongue and groove pliers

Hacksaw

Metal file

Basin wrench

Pipe wrench

Hard auger

Adjustable wrench

Tubing cutter

Closet auger

Plunger

Level

Duct tape

Circuit tester

Crescent wrenches

Socket wrenches

Drill and bits

Electrical tape

Needle-nosed pliers

Nut driver

Wire cutters/strippers

16 untreated boards, 1x4 and 5 feet long

Metal-wood glue

8 sheets ¼-inch plywood

8 sheets 4 fee x 8 feet sheet insulation

30 inches x 30 inches shower stall

Shower plumbing and fixtures

Low-profile chemical toilet (approximately 18 inches x 15 inches)

Single bowl aluminum sink

Small carousel microwave oven (minimum 15 amp)

4-foot overhead cabinet

21-inch camper oven/range

Small refrigerator

7 feet x 4 feet drop-down, single-bed platform with thick mattress

8 door hinges

3 feet x 3 feet drop-down kitchen table

5 feet x 2 feet x 2 feet wooden sofa-seat/storage box

80 square feet of linoleum

75 linear feet of quarter-round floor trim
For the purpose of this article, we'll assume a 12-feet trailer without a gooseneck.
Wire the trailer. Design a wiring plan that meets your needs for outside source power, lighting, refrigeration, microwave, television, and any other small or large appliance you plan to use. Complete the wiring after gluing the base for the interior wall (described in Step 3).
Finish the walls. Glue vertical 1x4x5 boards to the sides as the base for your finished interior wall. Wire the walls. Fill between the 1x4s with sheet insulation flush to the base. Nail the ¼-inch plywood onto the base. Sand, paint, or paper to your own specs.
Install the plumbing. This is simplified if the toilet, shower and sink are as close together as possible. If the trailer doesn't have a berth, the shower and toilet will generally go all the way to the front, adjacent to one another. The front door of the trailer will be on one side, and the sink can conveniently be installed directly across from the door.
Install the stove, gas tank and kitchen cabinet. An overhead cabinet with a microwave well is ideal. The stove can go under them. A vent hood to carry the stove's heat directly outside is essential.
Install the sofa-seat, table and bed. The sofa-seat is a box, with a lid, for storage. It is long and narrow, and when it is closed, it should seat two people directly across from a drop-down table. When the drop-down table is up, the drop-down bed should come down opposite the table, over the top of the sofa-seat. If you are looking in the back of the trailer, and the table is on the left, then the sofa-seat and drop-down bed will be on the right.
Install the linoleum on the floor.
References
Writer Bio
Stanley Goff began writing in 1995. He has published four books: "Hideous Dream," "Full Spectrum Disorder," "Sex & War" and "Energy War," as well as articles, commentary and monographs online. Goff has a Bachelor of Arts in English from the University of the State of New York.