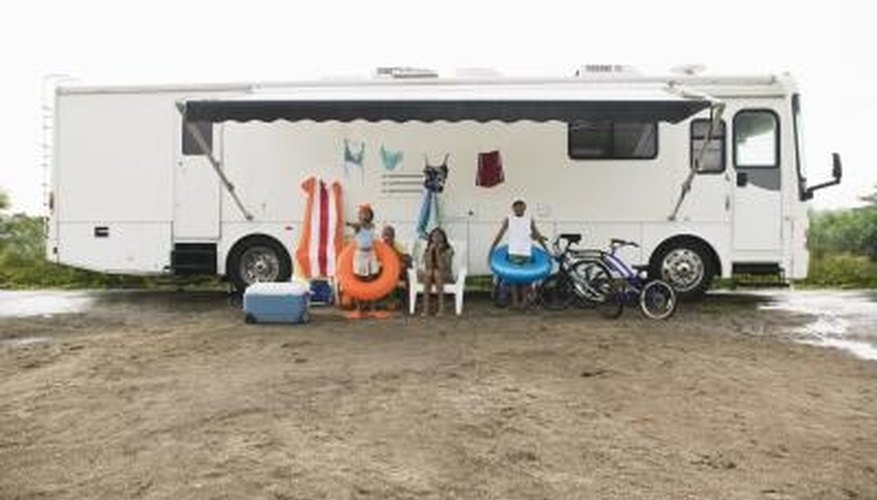 Toy haulers, like RVs, can be taken on extended or weekend camping trips. They provide all the comforts of home but still allow you to go anywhere you want on land. However, unlike RVs, toy haulers have extra space that allows you to bring along extra "toys" like motorcycles, ATVs and dirt bikes. If you have a camper trailer already and don't want to deal with the hassle of trading it in for a toy hauler, you may want to consider simply converting it.
Items you will need
Sledgehammer

Plywood

Sheet metal

Mounting screws

Bolts

Door kit

Doors

Ramp

Locking mechanism
Refer to legal and safety requirements. Before you can make modifications to your camper, you need to be certain that all legal and safety requirements are followed. Doing this will ensure that the job is done correctly the first time, eliminating the need to redo the work.
Draw or obtain blueprints. Before purchasing materials, you will need to check the blueprints to ensure that they are complete.
Reference your blueprints for the required materials and their amounts.
Remove all of the items that you no longer wish to have in the camper. Keep in mind that, while you will need adequate space for the items you wish to haul, if you plan to live in the toy hauler, some items should not be removed or altered. These items include, but are not limited to, beds, cabinets, bathrooms and kitchen.
Reinforce the floor with plywood or sheet metal. Because of the extra weight that will be placed in the camper, you will need this reinforcement to ensure safety and prevent damage to the camper.
Remove the back end of the toy hauler. This is where you will place the new ramp or door. Be certain that the door type you have selected will fit your specific needs. You may also want to seek assistance from an engineer to ensure that the job is done correctly.
Build doors or partitions between the toy hauler area and the living space, if desired.
References
Writer Bio
Cathy Givans has worked as a freelance copywriter since 2009. She has written for various online publications on subjects including parenting, homeschooling and living a vegetarian lifestyle. Givans has an Associate of Occupational Studies in business from The Bryman School.