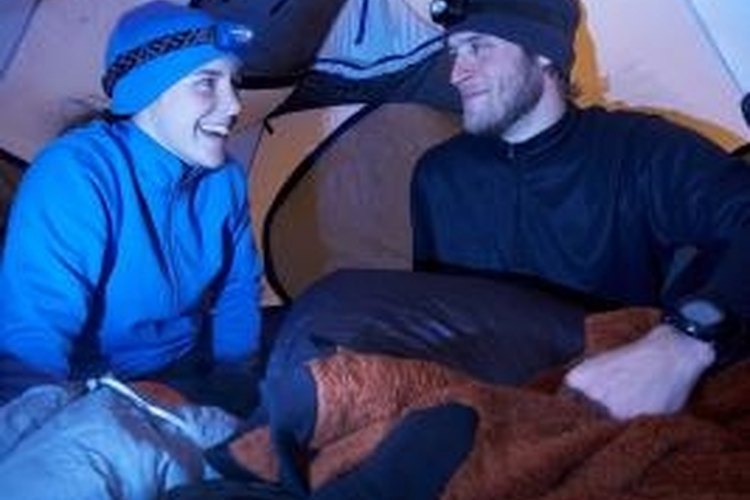 The American Heritage Weathermaster Cabin tent by Coleman is roomy enough for six to seven people and their gear. Featuring a waterproof tub floor with welded corners and seams along with weather-resistant fabric, the Heritage tent offers protection from the elements on your outdoor adventure. Durable tent poles are shock-corded for easy set-up. Proper care will allow you to use this large family tent for seasons to come, whether on a camping trip or in your own backyard.
Select a level site and clear away any rocks, branches or other hard and sharp objects.
Unroll and spread out the tent. Unzip the door. Use a hammer to secure the corners with tent stakes, keeping the floor smooth and taut.
Assemble all of the shock-corded tent poles. Slide the curved ridge roof pole through the center roof pole sleeve located on the top center of the tent. Slide the curved end roof poles through the remaining two roof pole sleeves on either end of the tent roof.
Put the square end of one of the center brace poles into the center curved roof pole and lift the tent up. Attach the remaining end of the brace pole to the squeeze pin at the base of the tent. Repeat for the other center brace pole.
Put the square end of one of the end brace poles into one of the end roof poles and lift up the end of the tent. Put the opposite end of the pole onto the squeeze pin at the base of the tent. Repeat for the remaining end brace poles.
Place the rain fly over the tent. Attach the "S" hooks from the rain fly to the holes on the brace poles.
Put the vertical hinge door pole through the sleeve and into the pole stop at the base of the tent. Put the top of the pole into the pole stop at the top of the tent and zip the sleeve closed.
Attach guy lines to the ends of the rain fly and secure them with tent stakes.
Items you will need
Stakes
Hammer
Tent poles
Rain fly
Tent body
Tip
Always store the tent when it is completely dry to prevent mildew.
Photo Credits
Jupiterimages/Photos.com/Getty Images