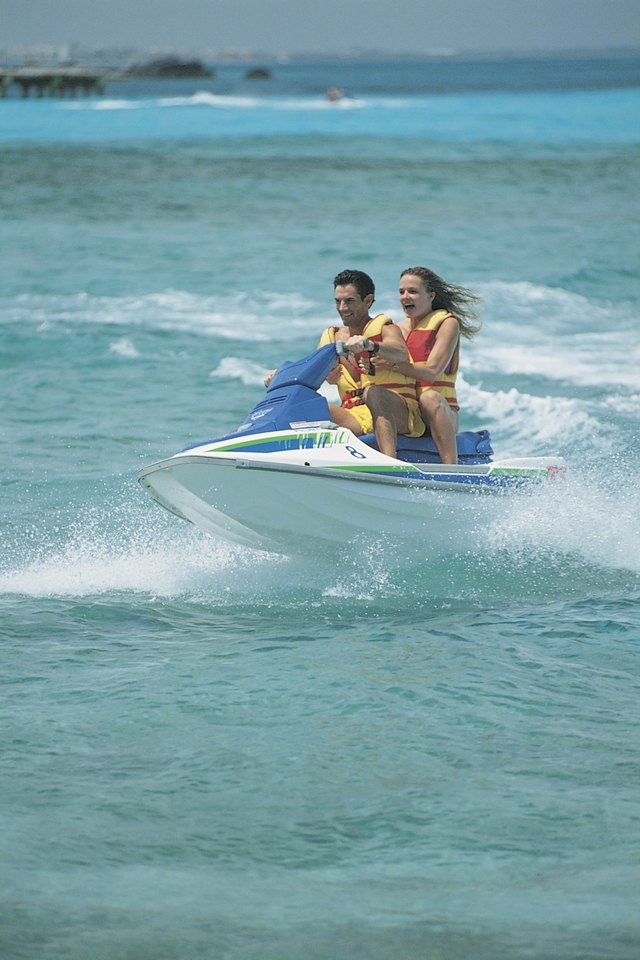 The hull identification number, or HIN, is a unique number that appears on every jet ski made in the U.S., and owners can use this number to report a stolen craft. Before you buy a used jet ski, run the HIN through an online database to determine whether someone is trying to sell you stolen goods.
Understanding Jet Ski HINs
Since 1972, federal law requires that every recreational boat manufacturer assign an HIN to each vessel built. This includes personal watercraft. The hull identification number is unique for each boat, a kind of serial number used to keep track of the craft. In the U.S., it is a combination of letters and numbers, for a total of 12 characters. In Europe, the HIN has 14 characters. This number is embossed on a vessel above the waterline, but for personal watercraft, it is found on the aft section on a plate. In addition, many personal watercraft have "Datatag" which carries the principle identification data.
In addition, some states require that boats be registered like cars. When you buy one, you have to register it. In Connecticut, for example, jet skis are among the watercraft that must be registered. Jet ski registration helps prevent stolen boats from being resold in the state.
Reporting Stolen Jet Skis
Jet ski owners should write down the HIN of their watercraft and keep it somewhere outside the boat. If a jet ski is stolen, the owner should contact her harbor master and insurance company. She should also provide the HIN numbers to the local police and request that the information is given to the National Crime Information Center (NCIC) computer.
Over 5,000 watercraft are stolen every year, with the highest incidence in Florida. Many of the thieves take watercraft with the intention of selling them.
Checking Used Jet Ski HINs
If you decide to purchase a used jet ski instead of a new one, you'll probably pay less for the watercraft. But you don't want to buy a jet ski that was stolen from someone else. You could be forced to give up the boat and also get into trouble with the law. Obviously, you can ask the seller where he got the boat, but it isn't likely that he will tell the truth if the jet ski was stolen.
If you live in a state that requires that jet skis be registered, you're in luck. You may be able to track the registration to see when your seller obtained the boat and from whom. But you'll still want to run the HIN through a database to determine whether it has been reported stolen.
Your local police may have such a database, but some do not. And even if they do, they may not open it to the public. You can find what you need without their help, because you'll find more than one database online. The first one to try is the National Marine Register. Just type in the HIN number and push "search."
For a complete history of the used jet ski you are looking at, you can try the HinDecoder website. It will run the HIN number through numerous state databases and provide a summary of the boat's history, including any accidents, liens and sales, and any reported theft.
References
Writer Bio
From Alaska to California, Switzerland to Brazil, France's Basque Country to Mexico's Pacific Coast, Teo Spengler has camped, hiked, surfed and fished, and written articles lighting the way for others to do the same. A published novelist and professional writer, Spengler earned a BA from U.C. Santa Cruz, a law degree from U.C. Berkeley's Boalt Hall, and an MA and MFA from San Francisco State. She currently divides her time between San Francisco and southwestern France. Her articles about the joys of being in the great outdoors have been published online by Arizona Central, USA Today Travel Tips, Working Mother, Hunker, Go Banking Rates, Gardening Know How, Atlanta Journal Constitution and eHow,