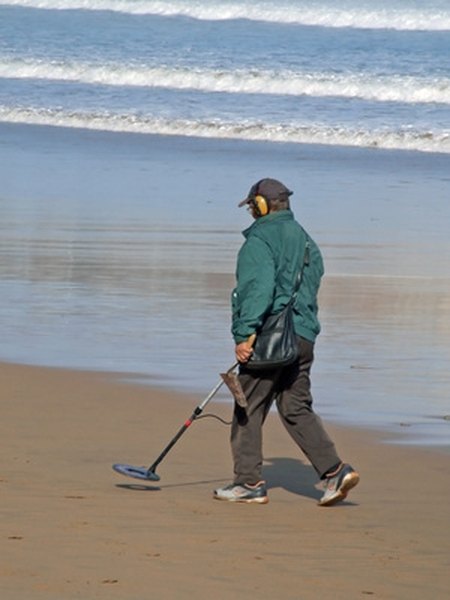 Both treasure hunters and casual hobbyists enjoy metal detecting. The possibility of finding old coins, rare artifacts, or even gold, lures people into metal detecting. To protect historical artifacts, mining claims, and private property, California laws regulate metal detecting. Before heading out onto public land with a metal detector, enthusiasts should make sure they comply with all federal and state laws.
Bureau of Land Management Laws
According to the California Bureau of Land Management (BLM) website, visitors can search for objects using a metal detector on BLM property with certain provisions. Visitors may not remove artifacts. Instead, visitors who make a discovery should report it to the closest field office. People using metal detectors can takes a handful of rocks, so long as they do not dramatically disturb the ground's surface. Digging into the surface or removing rocks or minerals from part of a mining claim is prohibited.
National Park Laws
According to the Code of Federal Regulations 36 CFR 2.1(a)(7), using a metal detector in national parks is illegal. This law applies to all national parks across the country, including California. The National Park Service strictly enforces this law. Even possessing a metal detector in a national park can be seen as an offense. Visitors wishing to pass through a national park with a metal detector should have it dismantled and stored in a case so it cannot be used.
State Park Laws
Metal detecting in California state parks is not expressly forbidden, according to the California Code of Regulations. However, four sections of the law found in title XIV, section 1, prohibit disturbing any plant, animal, geological feature, or archaeological artifact. As a result, people using metal detectors are not allowed to dig up objects unless they obtain permission from the park's district superintendent. All items worth more than $100 must be turned in to a state park official, and any lost property recovered can be reclaimed by the original owner.
The Archaeological Resources Protection Act (ARPA)
Passed into law in 1979, the Archaeological Resources Protection Act (ARPA) prohibits anyone from removing or impacting any archaeological feature on public or Indian lands unless a permit is obtained prior to the excavation. Although the law does not specifically refer to metal detecting, using a metal detector is illegal if it harms any archeological feature.
Private Property Laws
Anyone operating a metal detector on private land should receive permission from the property owner first. Removing objects from private land without prior permission is stealing, and therefore, illegal.