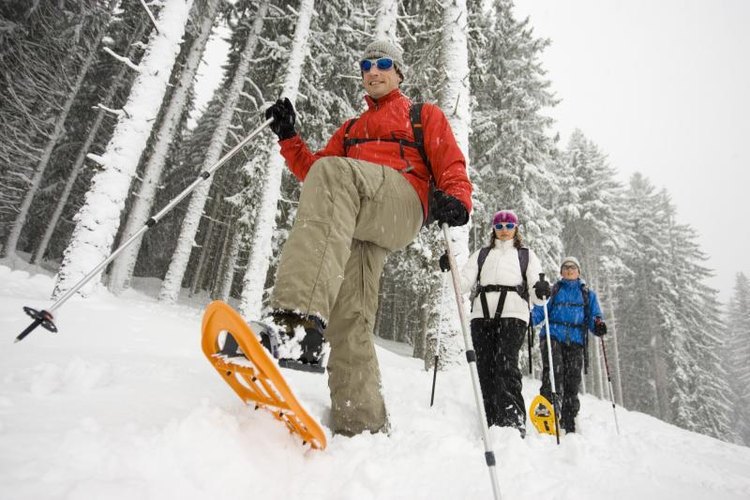 Choosing the right size snowshoe requires some forethought regarding brand choice, personal weight, gear weight and terrain. Sizing is also dependent on your preferred footwear and the intended use for the snowshoes. Snowshoe sizing and style varies greatly by the user and many avid users own several pairs for uses ranging from lightweight running to heavy-load backpacking.
Foot Sizing
Snowshoes are built with binding systems that adjust to fit your foot. Many brands separate styles for women and men to compensate for foot size differences. Although the sizing is adjustable, testing the binding before making a purchase is wise. Wear the shoe or boot that you are most likely to use with snowshoes and try a variety of brands. Some binding styles will pinch and compress against the shoe in an uncomfortable manner. Find the binding style that is most comfortable for your foot before moving forward.
Choosing a Length
Snowshoe length is the most critical aspect of sizing choice. The length determines the surface area available to carry your weight. Standard, beginner models typically come in lengths ranging from 25-to-30-inches. These models are designed for average size people ranging from 150-250 pounds. Models under 24-inches are common for smaller people and running/racing applications. Longer models over 30-inches are ideal for heavy loads and trekking applications.
Sizing for the Backcountry
Standard recreational snowshoes have a similar width and surface area regardless of brand. Backcountry specific snowshoes are designed with a larger surface area for deep powder and off-trail use. These models are commonly labeled as backcountry specific and have widths greater than 10-inches. Choose a large surface area snowshoe for serious trekking and climbing.
Rental Programs
Finding the ideal size and fit is difficult in the store. Many ski and mountain areas have snowshoe rental programs. Rent and test a variety of different shoes to find the most comfortable options. Test each brand under different loads and in varying terrain to thoroughly understand the pros and cons of each style.
Photo Credits
Jupiterimages/Stockbyte/Getty Images