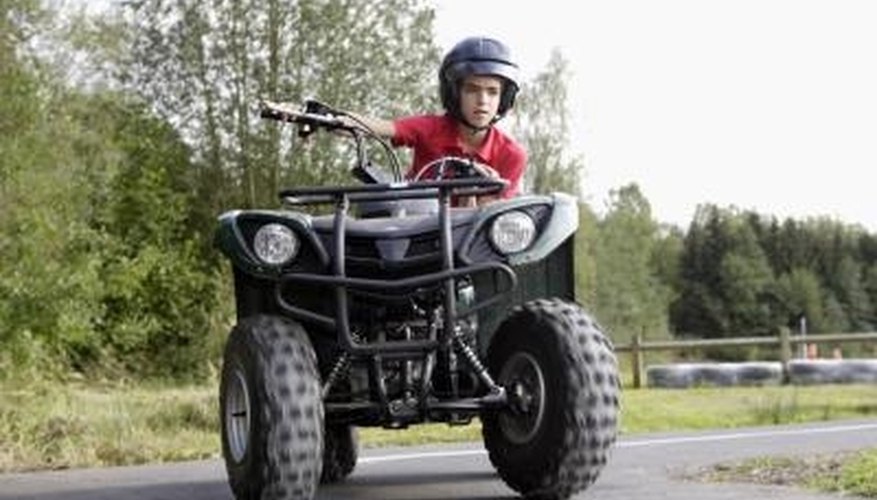 There are nine major brands of four-wheelers manufactured or sold in the United States. Each of these nine manufacturers produces several different models of four-wheeler, though often they're one basic four-wheeler frame offered in a variety of style, engine, suspension and accessory combinations. In 2010, there were two primary types of four-wheelers currently on the market. "Sport quads" are used for racing. They are built for speed and agility rather than for traversing rough or swampy terrain. Utility four-wheelers are designed to be off-road workhorses. They feature cargo space, four-wheel drive and a sturdier, heavier design. If you are shopping for a four-wheeler, you have plenty of options to choose from in the United States.
Suzuki
Suzuki is a Japanese company that manufactures a variety of vehicles, including four-wheelers, cars and motorcycles. Suzuki has been in business for over a century. Their four-wheeler models include the King Quad, the Quad Sport and the Quad Racer. Suzuki produces both sport and utility models as well as kids' four-wheelers.
Yamaha
Yamaha is a Japanese company known for producing motorcycles, ATVs, snowmobiles, personal watercraft like the WaveRunner, and other personal vehicles. Yamaha produces both racing-quality sport four-wheelers, such as the Banshee and Blaster, as well as heavy-duty four-wheel-drive utility four wheelers like the Grizzly. Yamaha also produces side-by-side ATVs, primarily the Rhino.
Polaris
Polaris is a four-wheeler, golf cart and snowmobile manufacturer based in Medina, Minnesota. Some of their most popular four-wheelers include the Sportsman family of utility four-wheelers and the Outlaw racing quad.
KTM
KTM stands apart from the other four-wheeler manufacturers in that KTM produces only race-ready vehicles. Primarily a racing dirt bike manufacturer, KTM does produce a handful of sport quads. KTM four-wheelers leave the factory with serious speed. KTM does not produce utility or four-wheel-drive ATVs.
KYMCO
KYMCO is the trade name for Kwang Yang Motor Company. KYMCO originated in Taiwan but now produces ATVs, scooters and motorcycles worldwide. In the United States, KYMCO is based out of Spartanburg, South Carolina. KYMCO currently manufactures nine models of ATV for sale in the United States.
Arctic Cat
Arctic Cat started out manufacturing snowmobiles, then added ATVs to their lineup. Arctic Cat primarily produces sport utility quads designed to handle rough weather and terrain; however, Arctic Cat does have one sport quad on the 2011 production lineup.
Kawasaki
Kawasaki is based out of Japan. They manufacture an assortment of products, including motorcycles, personal watercraft and four-wheelers. Kawasaki's utility quad lineup consists of the Brute Force, the Prairie and the Bayou. Its sport quad lineup consists of several models of the KFX.
Honda
Honda may be best known for its fuel-efficient cars, but it also produces a variety of engines and products, including motorcycles and four-wheelers. Honda is actually the oldest ATV manufacturer, having introduced the first three-wheeler back in the 1970s. Honda produces both sport and utility four-wheelers and has numerous different vehicles in each lineup.
Can-Am/Bombardier
Can-Am, formerly known as Bombardier, produces performance-based sport and utility four-wheelers. Can-Am is best known for its motocross performance bikes. Models include the Outlander and Renegade. Cam-Am also manufactures children's ATVs.
No Name
Off-brand, no-name four-wheelers are available for purchase in the United States. These four-wheelers are typically made in China and sell for thousands of dollars less than those with brand names. Many of these four-wheelers are produced by the same factories that produce parts for brand-name four-wheelers.
References
Writer Bio
Jen Davis has been writing since 2004. She has served as a newspaper reporter and her freelance articles have appeared in magazines such as "Horses Incorporated," "The Paisley Pony" and "Alabama Living." Davis earned her Bachelor of Arts in communication with a concentration in journalism from Berry College in Rome, Ga.