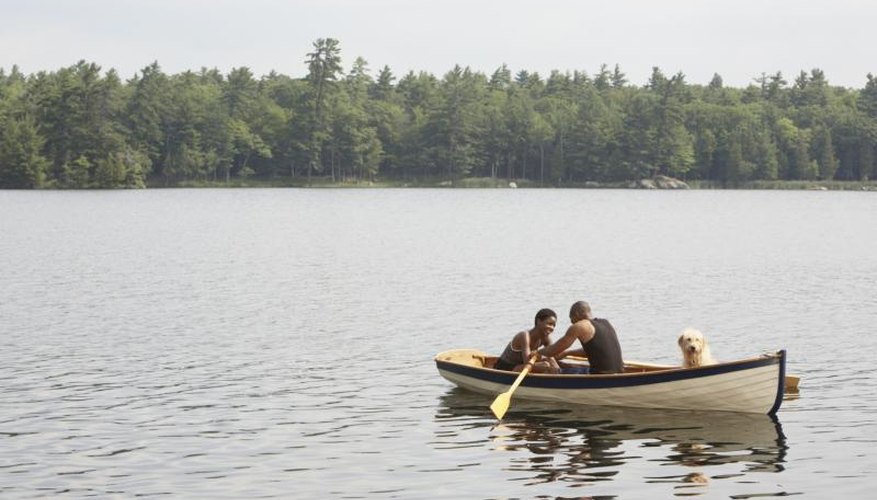 The U.S. Coast Guard classifies recreational boats by their length overall, to determine what safety equipment they must carry. Class A boats are those up to 16 feet in length overall. Class 1 boats range in length from 16 feet to just under 26 feet. Class 2 boats are between 26 and shy of 40 feet long. Class 3 boats, are those with lengths between 40 and just under 65 feet. The larger the boat, the more complex the boat's need for safety equipment, such as life jackets, a throwable rescue flotation device, horns, bells, whistles, distress signals and firefighting equipment.
State Laws
Your state can impose standards more stringent than those found in the federal regulations administered by the U.S. Coast Guard or other waterborne law enforcement agencies. These state laws may include special provisions regarding children's wear of personal flotation devices on deck or other requirements. Ask your state law enforcement agency about any differences between federal boating regulations and state law.
Personal Flotation Devices
All boats, regardless of class, must carry one personal flotation device for everyone aboard, including anyone you tow on skis or other towable device. A Type I PFD has 22 pounds of buoyancy. It will turn your face out of the water, if you're unconscious. Type II PFDs have 15 1/2 pounds of buoyancy and may -- but are not required -- turn you face up in the water. Type III PFDs also have 15 1/2 pounds of buoyancy, but are for calm waters inshore on lakes and rivers. Type V PFDs, clothing with flotation built in, do not satisfy this requirement unless worn. Class 1, 2 and 3 boats must also carry an approved throwable device, such as a ring buoy or floating boat cushion that you can throw to someone who's already in the water, with 18 1/2 pounds of buoyancy.
Sound and Distress Signals
All vessels must carry a sound producing device, such as a portable, compressed-air-powered air horn or whistle. Class 2 boats longer than 39 1/2 feet and all Class 3 boats must carry a whistle you can hear for 1 /2 mile. They must also be equipped with a ship's bell at least 7.87 inches wide at its opening. All boats must carry nighttime visual distress signals, such as flares. Class 1, 2, and 3 boats must carry daytime distress signals, such as signal mirrors or smoke signals, as well.
Firefighting Equipment
All Class A and Class 1 boats must carry at least one portable fire extinguisher, called a Type B-I extinguisher, capable of extinguishing gasoline fires. Class 2 boats must carry two B-I extinguishers or one larger Type B-II extinguisher. Class 3 boats can satisfy the requirement by carrying three B-I extinguishers or one B-I extinguisher and one B-II extinguisher.
Engine and Bilge Fire Prevention
All gasoline engines, other than outboards or those installed before April 25, 1940, must be equipped with a backfire flame arrestor. When a gasoline engine backfires, a flash fire rises through the carburetor. This device prevents that flash fire from spreading to the rest of the engine compartment. Boats with closed engine compartments or gas tanks that were built after August 1, 1980, must have two, efficient ventilation ducts. Compartmented gas engines with self-starters must have two vent ducts with cowls at their outlet and power-operated blowers operable from the vessel's control panel. Likewise, engine room bilges and the bilges under fuel storage tanks for low-flashpoint fuels must have two vent ducts with cowls over their outlet, as well.
References
Writer Bio
Will Charpentier is a writer who specializes in boating and maritime subjects. A retired ship captain, Charpentier holds a doctorate in applied ocean science and engineering. He is also a certified marine technician and the author of a popular text on writing local history.