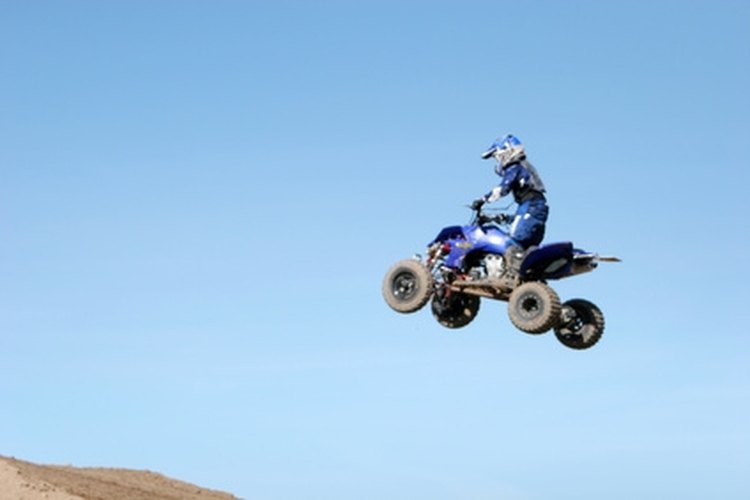 All-terrain vehicles (ATVs) are designed to be driven off-road through rough terrain. Unfortunately, unless you own a lot of land, you aren't able to drive your ATV around your yard. ATV parks and trails provide ATV owners a place to safely and legally test the abilities of their craft. There are several ATV parks with rugged trails throughout the United States; the best trails have mud holes, bumpy terrain and steep climbs to challenge riders.
Beasley Knob OHV
Beasley Knob trails are in the Chattahoochee National Forest in southeastern Georgia. All trails are rated for expert drivers and are described as difficult and most difficult. Several trails intertwine throughout the park so you will have plenty of room to ride with options to ensure you never get bored with the scenery. The trails are commonly navigated by off-highway vehicles (OHVs) like ATVs, motorcycles and 4x4 trucks and SUVs. You can expect to drive over several rocks, climb steep hills and traverse muddy bogs during wet seasons. The off-road vehicle park has a trained accident staff on standby to pull your ATV out in case of accidents or hangups. The park is closed for the winter season from January through March.
White Wash Sand Dunes
The White Wash Sand Dunes are a system of scenic trails just 48 miles northwest of Moab, Utah. ATV riders can enjoy the breathtaking red rock scenery while navigating the sand dunes and unmarked roads of the trail system. Riders are advised to carry a map at all times because the trails comprise a complex system in which riders could easily get lost. You can access points like the Crystal Geyser and Green River from these trails. Riders are invited to bring lunch and camp throughout the area, although no facilities are provided and riders are required to remove their own trash. No one under age 8 is permitted to ride on trails in the state of Utah. Resident ATV riders must possess a current OHV registration sticker; nonresidents must obtain a nonresident permit.
Hatfield-McCoy Trails
The Hatfield-McCoy Trails is one of the biggest off-road trail systems in the world with over 500 miles of trails in southern West Virginia. Six trails comprise the trail system: Bearwallow, Buffalo Mountain, Little Coal River, Indian Ridge, Pinnacle Creek and Rock House. Trails throughout the system are classified from easy to most difficult, making Hatfield-McCoy Trails the ideal playground for riders of all skill levels. The trails have been featured in off-road enthusiast magazines, including Dirt Rider, ATV Magazine, ATV Sport and Dirt Wheels. A ride through these trails will provide riders with views of West Virginia's breathtaking mountain scenery and natural wildlife. The trails are host to an annual TrailFest event which includes a scavenger hunt and open trail ride event.