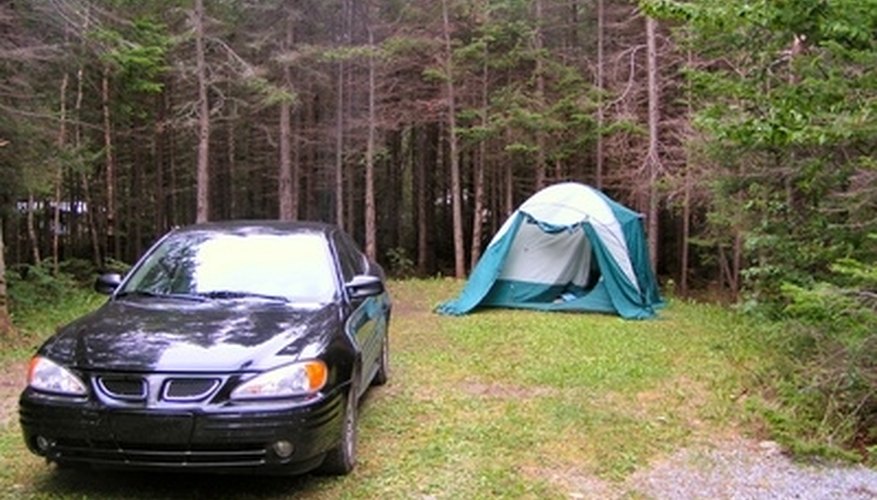 Greatland Tents are manufactured by the Northpole company for Target stores. The manufacturer also constructs similar tents for Walmart and other large chain stores. The tents use basic designs and budget materials. The setup process is fairly simple, although you find the directions included with the tent on the vague side. The Greatland tent is ideal for warm weather camping as the rain-fly is prone to failure in wet conditions. Use the multiple person tents for family outings and light camping.
Step 1
Locate a flat tent site. Remove any protruding objects from the ground area. Remove the tent, stakes, poles and fly from the stuff sack.
Step 2
Lay the tent body flat on the ground. Rotate the body until the door is facing the desired direction. Pound stakes through the ground loops located around the circumference of the tent. Pull the edges tight before you pound each stake.
Step 3
Locate the instant set poles that are already attached to the tent body. Pull each pole segment tight and twist to lock in place. Place the end of each pole in the corresponding grommet on the bottom of the tent. This will erect the tent body.
Step 4
Drape the fly over the top of the tent. Rotate the fly until the straps are aligned with the corners of the tent. Attach the Velcro straps located on the inside of the fly to the tent poles.
Step 5
Attach the fly straps to the hooks on the corners of the tent and pull the straps tight. Pull the guy-line on the back of the fly until it is tight to the ground. Pound a stake through the loop and into the ground.
References
Writer Bio
Zach Lazzari is a freelance outdoor writer specializing in hunting, fly fishing and the general outdoors. He guided fly fishing trips for 10 years in Colorado, Alaska, Montana and Patagonia-Chile. Zach lives in Montana and splits time between the river and keyboard.